Estonians are prolific users of payment cards. At 211.3, the frequency of overall card payments in Estonia was much higher than other mature markets such as the UK (140.8), the US (109.8) and Germany (54.1) in 2019.
High consumer awareness of the benefits of cards, improved payment infrastructure, and increased security associated with card payments have supported the growth of card-based transactions in Estonia.
Debit cards are the most popular card type, and are primarily used for card payments, with frequency of use of 211.3 in 2019 – much higher than for ATM cash withdrawals (21.9).
Given the strong hold of debit cards, credit and charge cards have been slow to take off. However, the credit and charge card market is expected to record a CAGR of 5.5% in terms of transaction volume over the four-year period to 2023.
Rising disposable household income, higher employment rates, and value-added benefits offered by banks will continue to support this growth.
The emergence of digital-only banks, alternative payment methods and contactless technology, and growth in the e-commerce market are also anticipated to support the payment card market. Consumer preference for debt-free payments, and prudent spending have resulted in the dominance of debit cards in terms of both transaction volume and value; however, a strong banked population – standing at 98.1% in 2019 – has resulted in stagnation in terms of debit card circulation.
Debit cards are frequently used for low-value, day-to-day transactions. In addition, bank are offering products such as basic low-cost accounts, account-switching facilities, bundled products, online account opening, and enhanced security in a bid to further increase debit card adoption.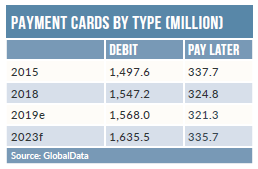 Credit and charge cards account for a small proportion of the overall payment card market. The availability of overdrafts has reduced the need for a separate credit card. Stricter eligibility criteria on credit card issuance have also been a challenge for the market – to prevent customers falling into debt, banks have set minimum income requirements for lines of credit.
However, banks also offer benefits such as instalment facilities, discounts, reward points and cashback. These value-added services resulted in steady growth in the credit card space during 2015-19.
The e-commerce market registered significant growth, rising from €226.6m ($259.6m) in 2015 to $576.6m in 2019 at a CAGR of 22.1%. Growth has been supported by rising internet penetration, emerging online retailers, benefits such as discounts offered by e retailers, and rising consumer preference for online shopping.
To capitalise on the strong growth in e-commerce, many retailers are introducing online stores in the country.