Japan's payment landscape continues to be dominated by cash, which accounted for 76.2% of the overall payment volume in 2018.
With government initiatives to promote electronic transactions and growing payment infrastructure, payment cards gained prominence during 2014-2018.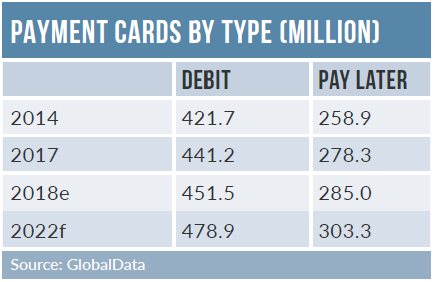 The upcoming 2020 Olympic and Paralympic Games are expected to provide impetus to the country's cards and payments industry. To supplement these global events, all the country's major banks are making their payment infrastructure compatible with foreign-issued cards, and are also installing ATMs at locations with high footfall, such as tourist attractions and supermarkets.
Meanwhile, issuers and payment service providers are focusing on developing payment infrastructure via the expansion of the payment-acceptance network.
The market is also seeing developments in payment card security and convenience, with issuers and technology companies experimenting with technologies such as blockchain and biometrics.
Debit card penetration is very high in Japan, with each individual holding over three debit cards in 2018, supported by the country's strong banked population. However, use has been mostly confined to cash withdrawals at ATMs, and the cards are rarely used for payments.
Overall, ATM cash withdrawals accounted for 87.9% of the total debit card transaction value in 2018. This is at least partly a result of limited consumer awareness of the ability to use debit cards at the POS.
Debit cards are also unpopular with merchants due to their long settlement periods. Payments conducted via J-Debit cards are can take three days or longer to reach merchants' accounts.
Despite their lower penetration, credit cards are the preferred card type, accounting for 98% of the total payment transaction value in 2018. The popularity of credit cards is largely a result of their associated reward programmes, which are considered far more beneficial than those offered for debit and prepaid cards.
Another important factor is wider acceptance, with credit cards now accepted by all types of merchants. Issuers have also partnered with merchants to attract new customers and launch co-branded credit cards.
Japan is one of the few countries to have a crypto-friendly regulatory regime, and has officially recognised Bitcoin as a legal payment instrument since April 2017. There has also been a gradual rise in cryptocurrency acceptance at merchants, which are increasingly opting for this method of payment due to benefits such as lower transaction fees, no chargebacks and cheaper acceptance from tourists.
Large merchants such as Bic Camera and Yamada Denki in Japan also now accept cryptocurrency payments.