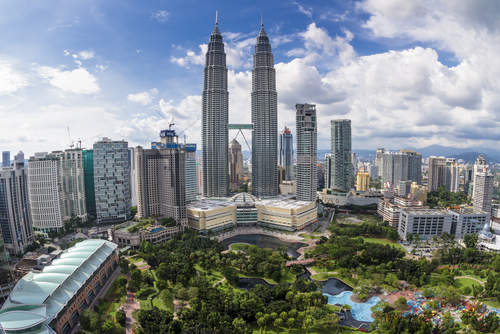 Malaysia has a booming prepaid and e-money sector with a growing debit industry plus a controlled and highly regulated yet profitable credit card market. Declining card fraud levels, a low unemployment rate and an increasing population means the market has the potential to thrive, writes Ben Carey-Evans
Improving infrastructure, potential global expansion and booming e-commerce are making Malaysia an increasingly attractive market. This is something that has clearly been identified by Visa, who regularly releases new technologies here. Despite recent growth and increasing potential though, Malaysia is still dominated by cash.
Innovation
The world's first commercial near-field-communication payment service for mobile phones was launched by Visa In April 2009, with handset maker Nokia and Maybank. The Maxis FastTap service allows Nokia NFC phones to make contactless transactions at over 1,800 Visa payWave merchant locations.
Stuart Tomlinson, country manager for Visa Malaysia, says: "Malaysia was the first place in the world where Visa trialled its Visa payWave technology, it is now the first country to offer Visa payWave on an NFC-enabled mobile phone on a commercial basis."
A senior member of Maybank recognised this, and says: "It is crucial for the customer to have a good experience, so new technologies are essential to keep the market growing."
Another innovation is Mobile Money, a PIN-based mobile payment solution designed to address limitations and bottlenecks of cash, checks and credit cards.
It uses mobile phones to make payments, allowing registered users to pay for goods and services at anytime, using only a mobile phone and a six-digit security PIN.
This gives shoppers the freedom to buy products online and pay the merchant via mobile phones.
Improving infrastructure
Malaysia was the first country in the world to deploy EMV compliance and implement chip-based smart cards. Card issuers and merchants in Malaysia spent about $65.7m on the EMV migration. Consequently, card fraud has been reduced to the point of negligibility since it began in 2005.
EMV also virtually disabled the use of cloned domestic credit cards. Credit card fraud accounted for less than 0.04% of total transactions in 2007. The Bank Negara Malaysia (BNM), however, says other types of fraud have increased since then, mainly card-not-present. This has led to more issuers adopting 3D secure schemes requiring additional cardholder verification.
Maybank says: "Card fraud has dropped drastically in Malaysia over the last couple of years. This is largely due to conscious efforts from the Government to make sure the acquirers meet deadlines for implementing the EMV system.
"Fraud levels are pretty low, and very stable, so we don't see further declines over the next few years."
Global expansion
Malaysia is considering opening its banking system to foreign investors, a move analysts believe is to further integration into the ASEAN community by 2015. In addition, its liberal economic and FDI policies, alongside improving microeconomic fundamentals, has generated a high level of foreign business attention.
A number of multinational banking companies entered the Malaysian industry between 2008 and 2012 through alliances with domestic banks or establishing wholly-owned subsidiaries.
These included BNP Paribas, Bangkok Bank, Bank of America, Bank of China, Bank of Tokyo-Mitsubishi UFJ, HSBC, India International Bank, Industrial and Commercial Bank of China and Citibank. Malaysia however, maintains a 30% cap on foreign ownership of banks.
"I think the banks in general are looking for opportunities to grow in neighbouring countries, as there is a lot of interaction within the ASEAN community," says Maybank.
Online/mobile
The growing e-commerce market in Malaysia is one of the primary factors behind the expansion of its cards and payment industry. Online sales rose from 1.46bn to 2.15bn between 2008 and 2012.
Although cash on delivery is emerging as a popular mode of payment for online shopping, credit and debit cards still dominate the industry. Promotions, such as, discounts and co-branded cards with the benefit of convenience are the main advantages and are why further increases are forecasted.
Furthermore, secure Online Shopping (SOS) provides cardholders and merchants with an extra level of security. Merchants have the ability to request online verification before they proceed to payment. The code uses a one-time password (OTP), an extension of the American Express SafeKey and the VBV/ MasterCard SecureCode.
"Central Bank has encouraged online issuers to put in place additional security, like SOS, which has resulted in more confidence from consumers to use debit and credit cards."
Promotions
Co-branding credit cards with retail outlets has been one of the biggest trends in the Malaysian credit card category over the last five years. It allows banks to distinguish their products from the basic credit cards offered by their competitors. Gifts include golf course access, movie tickets, access to airport lounges and discounts on shopping among others.
Charge cards tend to either offer one-off presents for joining, such as watches or entrance into a luxury-prize competition. Debit cards have offered discounts to restaurants, for example, to encourage card use over cash.
Prepaid
Prepaid cards have dominated the cashless market over the last five years. There were more than 93 million prepaid cards in circulation in 2012 compare to only 7.9 million credit cards and 39.6 million debit cards. However, only 5.4 million are open-loop cards, and we forecast that despite recent growth, from 2014 the market will stabilise before declining slowly.
Similarly, Maybank says: "We don't really see them growing tremendously in this market over the next four or five years."
In 2011 BNM reported that the Touch 'n Go electronic payment system is the most popular cashless payment mode, handling over 50% of these transactions. It processes over 2 million transfers a day and is around three times faster than cash payments. There were around 10 million Touch 'n Go cardholders in Malaysia in 2012.
Credit cards
Government regulations have attempted to prevent those less able to afford potential debt from encountering problems. This has resulted in a decline in volume, but the value of transactions has risen throughout the last four years.
The eligibility rules of March 2012 limited the issuing of credit cards to those who have an annual income of $7,625 or more. Before its introduction, the required minimum annual income for credit card approval was $5,718. In addition, it limits the number of credit cards each individual can have to two cards for those earning $11,437 or less.
These measures are undertaken to prevent mounting credit card debt. The maximum credit limit a cardholder can utilise cannot be more than two-times their monthly income.
"The lower income regulation hasn't had a negative impact on value because high-end customers are still very active and their ability to spend hasn't changed," says Maybank.
BNM mandated the use of chip-based automated teller machine cards and EMV standards for credit cards. Transaction alerts via text messages and the adoption of stronger authentication methods for online transactions have resulted in card fraud declining over the past four years. The value of card fraud was $5.4m in 2012, registering a declining CAGR of -12.59% since 2008.
Debit Cards
The debit card category grew at a CAGR of 13.01% between 2008 and 2012 and has a projected CAGR of 6.57% up until 2017. The transaction volume of debit cards is expected to increase at ATM terminals.
This was aided by the BNM regulation on a minimum income limit for card issuance and credit limits, which has forced Malaysians to make more use of debit cards.
Other key factors were the nation's strong economic progress, intensive marketing campaigns by banks and an increase in the number of international brand debit cards.
For example, Maybank launched the Platinum Debit Card with the NETS FlashPay feature in 2011. This allows cardholders to pay for public transport small ticket purchases and withdraw cash from ATMs. The bank also launched debit for entrepreneurs and professionals with higher daily spending limit of MYR10,000, called MasterCard platinum in 2011
Other Factors
A combination of steady national GDP growth and low unemployment highlights the stability of the Malaysian economy. The consumer sentiments index also rose from 114.9 points in the second-quarter to 118.3 points in the third. It was primarily driven by income growth. Furthermore, an ever-increasing population provides a larger potential customer base for the card market.
Key Malaysian Banks
Maybank
Maybank's broad product and service portfolio provides it with a competitive edge over its peers. It offers a range of financial products and services such as personal banking, wholesale banking, investment banking, private banking, online banking and insurance.
Its dependence on a select region for its revenues may affect its business operations, if the region experiences any political and economical change. The bank will stand to benefit from Malaysia's increasing per capita disposable income.
Its total assets were quoted at $135bn in its 2011 annual report, while its profits were $1.5bn. The bank has 386 branches in 19 countries.
CIMB Group
CIMB displayed strong financial results in 2011. It recorded revenues of MYR18.26bn in 2011, up 10.72% compared to 2010. The increase resulted primarily because of the end of the financial recession and better operating procedures.
Limited financial leverage or solvency position of the company may impact its ability to borrow and repay money.
The company's recent partnership with John Keells Stock Brokers (JKSB) and Allianz General Insurance Company (Malaysia) Berhad (AGIC) offers strong growth opportunities.
The liberalisation initiatives created several challenges, which could limit its investment banking business to underwrite larger corporate deals due to its smaller capital base.
According to its 2012 annual report, its total assets were $108.5bn, and it made a net profit of $1.4bn in the financial year.
RHB Bank
The bank's revenue increased from $1.61bn to $2.17bn between 2009 and 2011, a CAGR of 15.84%. Similarly, its operating income rose from $444.61m in to $796.78, at a rate of 33.87%, in the same timeframe.
The bank generated 95.35% of its revenues from Malaysia in 2011. Such geographic concentration of the bank exposes it to adverse changes in economical and geopolitical conditions of that particular region.
According to its 2011 annual report, its total assets were $46.6bn, and it made an operating profit of $783m in the financial year.