Cash remains the dominant payment instrument in Slovakia, accounting for 64.3% of the total payment transaction volume in 2018.
Cash is mainly used for day-to-day low-value transactions, although despite its dominance, consumers are gradually shifting towards card-based payments.
The rise in card adoption is supported by government financial inclusion initiatives, restrictions on cash and improvements to the payment infrastructure. An EU-wide cap on interchange fees has also encouraged payment card acceptance among merchants. The average annual spend per card in Slovakia is the higher than in peer countries including the Czech Republic, Russia, Hungary, Poland, Slovenia, Romania, Croatia and Bulgaria.
The rising adoption of contactless cards enables consumers to easily make low-value payments, while the emergence of mobile-only banks and e-commerce are other factors that are expected to further push electronic payments in Slovakia.
Debit cards remain the preferred card type among Slovakians, with a penetration of 83 debit cards per 100 individuals in 2018; this is mainly supported by government financial inclusion initiatives. Debit cards are also increasingly used for payments, accounting for 89.4% of the total card payments value in 2018.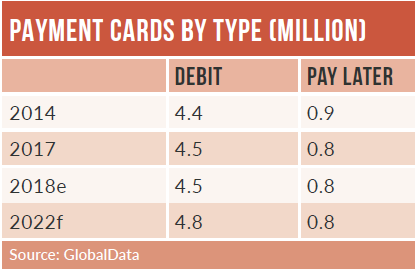 Frequency of payments by debit card registered significant growth from 56.9 in 2014 to 92 in 2018, at a CAGR of 12.7%. This was mainly supported by a rise in preference for contactless payments, as well as Slovakian banks encouraging customers to use debit cards for purposes other than cash withdrawals by offering reward points, discounts and cashback.
Contactless card uptake and use are rising in Slovakia, mainly supported by major banks such as ČSOB, Slovenská Sporiteľňa, VUB Banka, UniCredit Bank and Raiffeisen Bank now offering contactless cards.
Slovak consumers have embraced contactless technology, and it is increasingly used for payments. According to the central bank, over 90% of the total payment cards were contactless in 2017, and 245.2 million contactless card payments worth €4.7bn ($5.4bn) were made during the year. Contactless acceptance is also high, with over 80% of POS terminals supporting contactless.
The Slovak e-commerce market registered robust growth from $441m in 2014 to $684.3m in 2018, with electronics and media, clothing, footwear and cosmetics being popular purchases.
Growing internet and smartphone penetration, a rise in online shoppers and increased consumer purchasing power have supported this growth.
Online events such as Black Friday and Cyber Monday are also playing their part in the growth of e-commerce, as is the availability of alternative solutions such as Google Pay, PayPal and Masterpass.