Azerbaijan is a cash-oriented economy with a high unbanked population, low financial awareness, and inadequate payment infrastructure. This is hindering the development of its financial system, including payment cards, which remain at a nascent stage.
In comparison to peer countries Poland, Russia, Ukraine, Romania, Turkey and Kazakhstan, Azerbaijan has the lowest card penetration and frequency of use. However, with government initiatives to increase awareness of non-cash payments through financial literacy programmes, a strategy to develop financial services, cash withdrawal fees, and new regulations limiting cash transactions, payment cards are anticipated to gain traction, recording CAGRs of 11.1% and 11.4% respectively in terms of transaction volume and value for the period 2017-2021.
The primary use of debit cards is for distributing payroll and social payments. All major banks offer payroll cards for employees, and the government distributes social benefits such as pensions and social insurance through banks, under the State Social Protection Fund. This has encouraged many banks to offer social cards to senior citizens to enable them to withdraw their monthly pensions.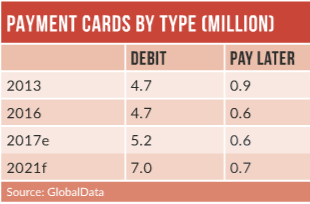 According to central bank data, the number of social cards stood at 2.5 million and salary (debit) cards stood at 1.8 million as of January 2018, constituting 74.8% of the total number of debit cards.
Pay-later cards in Azerbaijan had a penetration rate of just 6.3 cards per 100 individuals in 2017. The number of cards in circulation and the transaction value both fell during the review period, largely as a result of low consumer awareness of the benefits of credit cards, and high costs of lending. The availability of credit facilities on debit cards also reduces the need for a separate credit card. Banks are, however, encouraging credit card use through benefits such as instalment payments.

Azerbaijan's e-commerce market grew significantly from AZN2.6m ($1.5m) in 2013 to $22.6m in 2017, at a CAGR of 96.2%. The proliferation of mobile internet use is a key driver of e-commerce growth, and many banks now offer payment cards exclusively for online purchases. Examples include Kapital Bank's Visa Virtual card, and IBA's Visa Internet card and Mastercard WebCard. Alternative solutions such as PayPal, Wallet One and Azerpay will also boost e-commerce over the next five years.
The number of POS terminals recorded a CAGR of 18.4%, rising from 33,285 in 2013 to 65,471 in 2017. The government announced plans to introduce the Single POS Terminal project in 2018, allowing merchants to accept all payment cards at a single POS terminal, irrespective of issuer. In December 2017, the central bank installed POS terminals at the state agency ASAN's service centres, enabling individuals to make card payments via the government payment portal