The Australian payment card market continues to evolve at a rapid pace. Australians are very comfortable using debit and credit cards for payments, and the two card types are used almost interchangeably.
Recent growth in the payment card market has been characterised by the rise of contactless payments, growth in debit card use, and the emergence of digital wallets. Digital wallets, however, still need to demonstrate greater benefits and convenience compared to payment cards.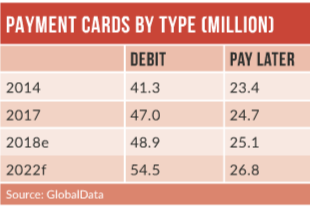 Consumers now have more choices, particularly for low-value purchases, and use of cash has declined as a result. This transition to electronic payments is expected to continue to 2022, as the number of contactless payments grows and the New Payments Platform is launched.
Competition among card issuers has therefore heightened, and as consumers increasingly turn to digital channels, the stakes have been raised further, with new challenger banks such as Volt and Xinja likely to pose a threat to major financial institutions in the country.
Debit cards are expected to surpass pay-later cards in terms of card payments value over the period to 2022, as a growing number of Australians are cutting unnecessary spending and increasingly using debit cards for payments.
To compensate for revenue loss due to the reduction in interchange fees, issuers have increased annual fees and cut reward benefits, particularly on premium credit cards, making them even less appealing than previously. However, some issuers have begun to offer benefits on debit cards, including cashback, fee-free ATM access and reward benefits, leading to a growth in debit card use.

Australia is one of the world's most highly developed contactless card markets, with most consumers having access to a contactless payment card. Australian consumers and financial institutions have embraced the technology, with the extensive acceptance infrastructure being a key reason why the cards are so popular.
Backing from large banks and large merchants has made contactless a standard form of payment in the market. The number of contactless cards rose from 29 million in 2014 to 56.5 million in 2018, at a robust CAGR of 18.1%; the figure is anticipated to reach 79.7 million by 2022.
E-commerce in Australia recorded strong growth, rising from A$24.8bn ($19.39bn) in 2014 to $31.78bn in 2018, at a CAGR of 13.2%. Rapid smartphone adoption, growing internet penetration, the availability of secure online payment systems, and the growth of online sales events such as Boxing Day, Black Friday, Cyber Monday and Singles Day are driving the e-commerce market.
The availability of alternative solutions such as PayPal, Apple Pay, BPay and POLi for online purchases has also supported the e-commerce market's growth.