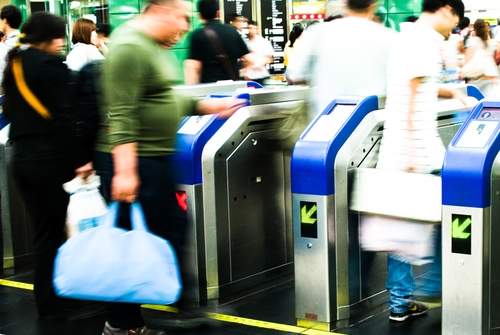 The Chicago Transit Authority's plan to introduce an open-loop prepaid transit card marks a milestone in transit payments. Robin Arnfield compares it to other attempts and reports on the challenges associated with this type of product.
With the launch of its Ventra system in summer 2013, Chicago is set to become the first major US city offering open-loop transit payments. Customers will be able to pay for Chicago Transit Authority (CTA) and suburban Chicago Pace buses and trains with the Ventra Card, a MasterCard-branded contactless general-purpose reloadable (GPR) prepaid card that can be used for transit and everyday purchases. They will also be able to useopen-loop credit and debit cards, orclosed-loop Ventra Ticket contactless cards containing single-ride and one-day passes.
"As Chicago is a mass-transit system where people take multiple rides during a single day, the Ventra Cards will see a lot of usage," says Ben Jackson, a senior analyst at US-based Mercator Advisory Group."If transit agencies implement open-loop payments, they must cater for unbanked riders lacking credit or debit cards," says Alistair Newton, a research vice-president in Gartner's banking group. "So there will be political pressure to give them prepaid open-loop transit cards."
Jackson sees transit as potentially enabling open-loop GPR prepaid cards to move into new markets offering high transaction volumes. "Open-loop prepaid transit cards have a potential market not just with unbanked passengers but with people who already have bank cards but use prepaid cards for budgeting," he says. "If employees load their pre-tax transit benefits onto an open-loop prepaid card, they might use the card's GPR portion for purchasing refreshments or newspapers on the train. There could potentially be a lot of these small-value retail transactions."
ChallengesIn A Prepaid Case Study: Ready Credit's General-Purpose and Transit-Fare Programs, Philip Keitel, an analyst at the Federal Reserve Bank of Philadelphia's Payment Center, says transit schemes seeking to replace closed-loop transit cards with open-loop prepaid transit cards face several challenges.
"There are problems associated with allocating responsibility in a multi-party system involving independent firms such as prepaid card programme managers," Keitel says. "Also, there is potential reputation risk from linking different brands such as transit agencies, banks, and payment networks; and potential customer confusion about different fees and customer support for the cards' transit and retail GPR elements."
"Regulations are an issue, as open-loop reloadable cards can't be anonymous and must be issued by a bank," says Randy Vanderhoof, executive director of the US-based Smart Card Alliance. "This means that issuers have to conduct KYC (know your customer) checks on their open-loop prepaid transit cardholders."
MetaBankThe Ventra Cards will be issued by US open-loop prepaid card issuer MetaBank. "MetaBank will also monitor the cards' compliance with KYC regulations," says Brad Hanson, MetaBank's executive vice president.
Ventra Cardholders will have the option of activating the card's open-loop GPR capability and of reloading funds to the card. However, any GPR funds stored on the card will be separate from the cardholder's closed-loop Ventra Card transit pass.
"The most common model for open-loop transit prepaid cards is for the GPR account to be separate from the closed-loop transit funds," says John Satterfield, Cubic Transportation Systems'vice president and regional director. "Keeping the open-loop GPR funds separate from the transit pass is important for pre-tax employee transit benefits, which can only be spent on commuter trips."
The Ventra Cards will be sold at CTA station vending machines and will be available from Chicago retailers. Cardholders will be able to load funds at vending machines, at retailers, online and over the phone. During 2014, the CTA will phase out its existing Chicago Card and Chicago Card Plus closed-loop transit cards, replacing them with the Ventra Card.
"We're going to monitor the CTA open-loop prepaid card implementation," says Hanson. "If it's successful, then prepaid transit cards will become a growth area for MetaBank, because we will be able to sign up more transit systems. Right now, the US open-loop prepaid transit card market is still emerging. But we believe we have an opportunity, or we wouldn't be involved with the CTA implementation."
First Data will act as transaction processor for the MasterCard-branded Ventra Cards, while Cubic will supply the CTA's overall transit payment system.
The CTA expects to save USD50m during its 12-year contract with Cubic, because it will avoid having to upgrade and maintain existing fare collection equipment that is nearing the end of its life. "Cubic will be responsible for running the Ventra system for the CTA, although the CTA will have sole responsibility for its fare policy," says Satterfield. "Cubic will collect the revenues and deposit them in a CTA bank account. The CTA will pay Cubic from that account based on ridership volumes and the performance of services specified in the contract."
An article on Chicago radio station WBEZ 91.5's website quoted CTA spokesperson Brian Steele as saying that the deal with Cubic means the CTA is "getting out of the banking business."
Account-based systemCubic will deploy its Nextaccount account-based technology for the CTA's Ventra system. Nextaccount allows ISO 14443-based contactless cards such as open-loop credit, debit or prepaid cards, closed-loop transit cards, or employee and student ID cards, to be associated with a closed-loop transit purse that is stored centrally on a back-end server, meaning that card is used to identify the centrally-held stored-value account.
In an account-based system, the terminal transmits the information stored on the card to the back-end system which decides whether the card or associated stored-value account is valid. In a traditional electronic transit system, the terminal reads the card and decides whether to approve the fare payment transaction.
"Our terminals read the cards, then look to see what type of account they are associated with," says Steve Brunner, Cubic's vice president and regional director, North-East and Mid-Atlantic regions. "We can tell, for example, if an open-loop credit card has a pre-tax employee transit benefits purse associated with it. In this case, the system looks up the associated stored-value transit account and charges it. If the bank card isn't associated with a stored-value account, an authorization is obtained for a pay-as-you go ticket payment. This authorization can be obtained in 500 milliseconds."
PATCOIn October 2012, Cubic completed a one-year open payment pilot with PATCO (Port Authority Transit Corp.), the high-speed train line between Southern New Jersey and Philadelphia. The first phase of the trial saw PATCO launching the Wave & Pay Anywhere Visa Prepaid Card in September 2011.
Issued by the Bancorp Bank, the card combined a GPR prepaid card with a PATCO transit pass. Any pre-tax employee transit benefits associated with the card were held in a separate account from the open-loop funds.
"When a Wave & Pay Anywhere prepaid card was presented for payment at an entry gate or parking terminal, the card was checked to see if any employee transit benefits were associated with it, and, if so, these were used for payment," says Brunner. "If no transit benefits were associated with the card, the open-loop prepaid funds stored on the card were used for payment. The open-loop prepaid funds account could also be used for retail purchases.
"In the trial's second phase, commuters were able to use any contactless Visa, MasterCard, Discover or American Express card, or a virtual card in an NFC mobile wallet, to make transit payments at PATCO gates and parking terminals.The PATCO trial enabled Cubic to test its account-based platform and to demonstrate that commuters would use the same prepaid card as their transit pass and a GPR payments card. "Everything worked in the PATCO trial," says Brunner. "There were over 36,000 transit and parking transactions during the pilot, and over 48% of Wave & Pay Anywhere GPR cardholders used their cards for both transit and retail transactions."
Los AngelesIn September 2010, LA Metro and GPR prepaid card program manager Ready Credit launched the TAP ReadyCard Visa card, which is targeted at unbanked riders. The card combines LA Metro's TAP (Transit Access Pass) prepaid closed-loop fare card and a GPR open-loop account. In addition, LA Metro and Ready Credit provide the Access TAP prepaid Visa card for registered disabled transit riders. Both cards are issued by MetaBank.
"The TAP card is stored on a contactless chip on the TAP ReadyCard, while the GPR account information is held on the card's mag-stripe," says Matt Newsome, vice president of Cubic's West Coast operations. "The two applications are totally separate."Newsome says that around 8,000 TAP ReadyCard Visa cards have been distributed so far. "We've seen an average of around 5,000 total transit transactions per month, and over USD3.8 million loaded on the non-transit account," he says. "LA Metro has issued 95,000 Access TAP Visa prepaid cards since 2011."
LA Metro hasn't decided yet whether to install an open-loop transit payment system, Newsome notes.
DifferencesAccording to Keitel's report, the amount of cash withdrawn at ATMs marks a key difference between Ready Credit's transit GPR and its retail-only GPR prepaid cardholders.
"A typical Ready Credit retail-only or transit GPR cardholder makes three to four ATM withdrawals per month, but the average amount of cash withdrawn by retail GPR cardholders is 60% higher, at USD224 compared to USD160 for transit GPR cardholders," Keitel writes. "Another exception is the average size of purchase transactions, which is about 50% higher among Ready Credit's retail-only GPR cardholders compared with its transit GPR cardholders."
Both transit and retail GPR cardholders make 10 purchase transactions a month, but the average value of retail-only GRP cardholders' purchase transactions is USD48 compared to USD32 for transit GPR cardholders.
According to Keitel, both retail-only and transit GPR cardholders in Ready Credit's programs average two fund deposits every month. "But there is a significant difference between these two groups in terms of the share of active cards with direct electronic deposit," he writes. On average, 82% of active accounts in Ready Credit's retail-only GPR programs have direct deposit. Among its transit GPR cardholders, direct deposit occurs on 37% of active cards.
UtahAlthough the Utah Transit Authority (UTA) offers open-loop payments, it decided against introducing an open-loop prepaid transit card."The UTA has accepted contactless open-loop credit and debit cards since January 2009 on its 56 transit stations and 600 buses," says UTA spokesman Gerry Carpenter. "US mobile wallet scheme Isis launched an NFC payment market trial in Salt Lake City in October 2012, and Google Wallet has done tests on our system. We've proved that our contactless open-loop card readers work with Isis and Google Wallet."
The UTA introduced open-loop card acceptance to accommodate skiers and other visitors to Salt Lake City. However, only 1% of trips on the UTA network are paid for using open-loop payment cards, with the rest being paid for either by cash or paper passes, says Carpenter. The UTA also allows employees of local firms and students at local educational establishments to use their ID cards to ride on the network.
Several factors have held back the use of open-loop cards on the UTA network, including the reluctance of local Utah banks to issue contactless cards and the small number of local merchants who have installed contactless card readers, says Carpenter. "The UTA is in the process of introducing reloadable contactless closed-loop prepaid transit cards for people who currently pay cash or who don't have credit or debit cards," says Carpenter."When we decided to introduce a prepaid transit card, we asked ourselves whether to go for open- or closed-loop."
The UTA opted for a closed-loop transit card, because it could see no compelling reason to provide open-loop prepaid cards. "If consumers want a GPR open-loop prepaid card, they can go to a bank or a prepaid card program manager," says Carpenter. "Also, a key reason for offering a closed-loop prepaid transit card is because we want to be able to reduce our payment acceptance costs."The UTA's closed loop cards will be provided by InComm, in exchange for a 9% share of transaction fees. This compares with the 18-20% fee per transaction that the UTA currently pays for open-loop transactions, although it hopes to negotiate the open-loop fee structure downwards.
VancouverLike the UTA, TransLink, the regional transit scheme for Vancouver, Canada, decided against open-loop prepaid transit cards. TransLink is working with Cubic on a CUSD171 million (USD171 million) electronic fare system consisting of Compass, a reloadable closed-loop card, as well as open-loop card acceptance.
"We don't intend to offer Visa- or MasterCard-branded prepaid transit cards for our system," says Ken Hardie, TransLink's director of Compass Card/Faregate communications. Passengers will be able to load monthly passes onto their Compass cards, he adds.According to The Globe & Mail newspaper, TransLink plans to deploy Compass cards in 2013.
LondonTransport for London (TfL) has no plans to offer contactless open-loop prepaid transit cards as part of its migration to open payments, says Shashi Verma, TfL's director of customer experience.
Since 2003, using technology supplied by Cubic, TfL has provided the Oyster closed-loop prepaid transit card for use on London's Underground, bus, Docklands Light Railway (DLR), and rail networks.
"TfL will provide an option for passengers to pay for single bus fares using contactless open-loop debit or credit cards on London's 8,500 buses before the end of 2012," says Verma. "We will expand the open-loop project to include London's Underground, DLR and rail networks later in 2013."
Singapore
Since 2002, Singapore's EZ-Link has issued over 12m EZ-Link branded prepaid transit cards for use on the island state's buses and trains. EZ-Link is responsible for issuing and processing transit cards on behalf of Singapore's Land Transit Authority.
In addition to purchasing transit tickets, EZ-Link closed-loop transit e-purses can be used for Singapore's Electronic Road Pricing (ERP) and Electronic Parking systems and for purchases at merchants that accept EZ-Link. "EZ-Link has been sponsored by the Singapore government as part of its goal of migrating the economy from cash to electronic payments," says Newton.
In August 2012, EZ-Link introduced a mobile wallet, enabling EZ-Link transit cards to be loaded onto passengers' NFC-enabled smartphones. There are currently over 20,000 acceptance points that accept EZ-Link NFC payments, including taxis, supermarkets and fast food chains.Although it originally only issued closed-loop cards, EZ-Link has branched out into open-loop issuance. In 2009, it launched the FEVO prepaid MasterCard which combines an open-loop GPR prepaid account with a separate EZ-Link transit e-purse.
Launched in May 2012, the EZ-Link M1 MasterCard is a joint effort with Singapore mobile carrier M1, combining three prepaid products: a mobile airtime-top-up card; a contactless transit card; and an open-loop GPR prepaid MasterCard. In October 2012, EZ-Link launched the Imagine EZ-Link American Express prepaid card, which combines a transit purse and a GPR prepaid account.
The EZ-Link open-loop cards' GPR accounts cannot be used for transit fare payments, which can only be carried out with the transit purse stored on the cards.
Turkey and South AfricaTransit schemes in Turkey and South Africa have implemented open-loop prepaid transit cards, where the same application is used for general purchases and transit.
In December 2011, the Turkish city of Eskisehir launched the contactless MasterCard-branded Esparacard, which is issued by Garanti Bankasi. Terminals supplied by Ingenico for Eskishehir's open-loop transit project can read personal information embedded on Esparacards in order to provide ticket discounts for students, teachers, and senior citizens.South Africa's Department of Transport has developed an open-loop prepaid transit card specification for use by the country's transit schemes, in an effort to improve financial inclusion. Several transit agencies have already launched cards in compliance with this specification.
In Durban, Standard Bank South Africa began issuing dual-function contactless transit-ticketing and GPR MasterCard prepaid cards in July 2012. Standard Bank said it planned to issue 50,000 Muvo cards for use on Durban's bus network, which is operated by the eThekwini Transport Authority. Users are able to store different types of tickets, such as student or pensioner tickets, and tickets for multiple journeys, on their Muvo cards.
South Africa's Absa Bank is involved in two MasterCard prepaid transit card initiatives. Absa provides the MyConnect MasterCard for users of Cape Town's MyCiTi bus network. It is trialling the TAP-I-Fare prepaid MasterCard with technology firm Integrated Fare Collection Services (IFCS) in the Western Cape for use in taxis. Absa and IFCS are looking to develop open-loop prepaid transit cards for use across South Africa in accordance with the Department of Transport's specification.