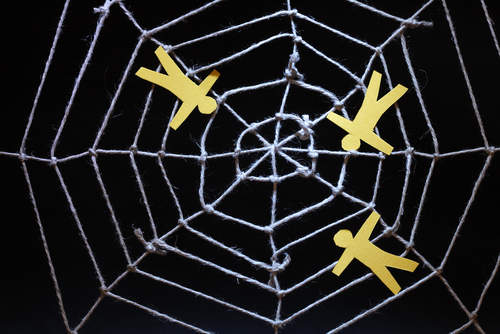 After spending more time in court than Lindsay Lohan and living on a diet of snails, fries and chocolate over the last year, the three musketeers of EE, O2 and Vodafone have returned from Brussels with a chip on their shoulder (quite literally). After getting the go ahead from EU regulators, the once christened 'Project Oscar' has a fresh name, a new CEO and a renewed sense of purpose. With a long-term plan to capture the UK mobile payments market, will these competitors be able to adjust to being 'frenemies' in time to take on the banking industry.
Kick started in 2011; the Project Oscar joint venture was announced behind a wave of optimism and a fair dash of bravado. When the three largest UK Mobile Network Operators (MNOs) first came together they had expected to steam roll their way to launch in time for the London Olympics. After rival Three stepped in, there were doubts that the fledgling joint-venture would ever see the light of day. Fresh from there win at the European Commission the partnership is pushing forward with its ambitious plans to take a massive slice of the mobile advertising and payments market, which according to Gartner will be worth $24.5 billion by 2016
Now officially called Weve, the first focus for the business will be positioning itself as the 'single door' for mobile advertisers in the country. With an unprecedented 80% of UK customers on their network, and 15 million mobile users currently opted in to receive mobile marketing communications, there are no second guesses for working out where brands are going to go. Weve also boasts that unlike Google and Facebook they actually have a secure and authenticated customer relationship i.e. real people, real addresses, and real billing details. More so they have access to everything a phone can capture including location, web history, and mobile purchases.
This of course is not the first time that MNO's have worked together, an indeed these very businesses have partnered before. In 2003, T-Mobile, Orange, and Vodafone formed 'SimPay' with the goal to deliver a single branded solution for low value payments. The proposition allowed consumers to charge small purchases to their mobile phone bill. SimPay was expected to be a big success and Chief Executive Officer Tim Jones publicly forecast extra revenue of around €1bn (£700m) for operators by 2007. In June 2005, the company was closed without ever really seeing the light of day. The long-term success of Weve will be linked to its ability to learn the less from these past failures.
This perhaps explains one of the businesses first key strategic decisions. Originally Weve was set up to focus on mobile payments with advertising and loyalty being complimentary services. The business has smartly reversed this approach with advertising becoming the primary focus in 2013. With the current lack of traction in the UK around mobile payments and NFC it makes sense to bide some time. This could be an ode to SimPay which was felt to be too far ahead of its time rather than a bad proposition. Given where mobile payments are today, it isn't surprising that 2005 was just a little ahead of the market.
This doesn't mean that Weve isn't interested in mobile payments. In fact it's quite the contrary. To evidence the fact, Weve has appointed seasoned payments executive David Sear as CEO. Sear has previously worked at Travelex, Voca and WorldPay and has the industry contacts and payments battle scars to get things moving. Mr Sear is also the Chairman and Non-Executive Director of mobile payments business Bango and secure telephone payments business Semafone. Interestingly, Bango has made significant strides this year in supporting carrier payments and now powers Facebook, Amazon, Telefonica, Google, and Blackberry.
Mr Sear does have a difficult job however. With Weve expected to have its mobile wallet available in the early part of 2014, it will be interesting to see what traction it will gain. The proposition would likely compete against the likes of PayPal and V.Me in offered in both traditional web and mobile formats. Operator led mobile payments has always struggled to gain a foot hold in mature economies. In a country where ATM's, Point of Sale terminals and cards are in abundance it has always been harder to convince the population of the benefits of mobile. In Africa and parts of Asia where payments infrastructure just doesn't exist, mobile payments have flourished. In Kenya, M-Pesa a business set up by Vodafone sees over 30% of the economy's GDP transferred through the platform. Importantly, most salaries are paid directly into an M-Pesa account.
In the short-term the major UK banks will continue to maintain a watching brief over proceedings at Weve. There is no doubt that whilst Weve will have some opportunities in the mobile payments space, what it does lack is the overall context of a customer's total product portfolio. It is always going to be difficult to break the hold of banks with this. Until a person's salary is not paid directly into a bank account, businesses like Weve will struggle to provide the end to end experience that customers expect. It will however be interesting to see if any of the UK banks have been inspired by the joint-venture and consider forming their own partnership. My enemy's enemy is my friend, so to speak. With the UK Mobile Payments database being set up, Weve won't be the only partnership with millions of mobile numbers to leverage.
Weve is making all the right noises as it enters the second phase of its step to 'world domination'. With a bagful of lessons from previous failures, an experienced management team and a CEO who understands the payments landscape, they stand a better chance than ever before. They should be able to accumulate a steady stream of advertising money and confidence over the course of 2013. The true test for the joint-venture will be if, and when, they decide to go after mobile wallets. Whilst banks won't have anything to fear right now, it does raise some questions around the ambition of the banking industry. If Weve can focus on their strengths and avoid thinking it's their birth right, then they just might be able to 'weve' some long term success.