The rise of digital payments during the Covid-19 pandemic has caused a dramatic decrease in ATM withdrawals in the second quarter of 2020, as highlighted by data compiled by payments firm Wallter.
According to statistics from Pay.UK, the UK's leading retail payment authority, Q2 '20 reported record-breaking lows in terms of transaction volume and value.
The value of ATM withdrawals in Q2 '20 was £22,086m whereas in Q2 '19 the value was £41,430m, representing a 46.7% year-on-year decline.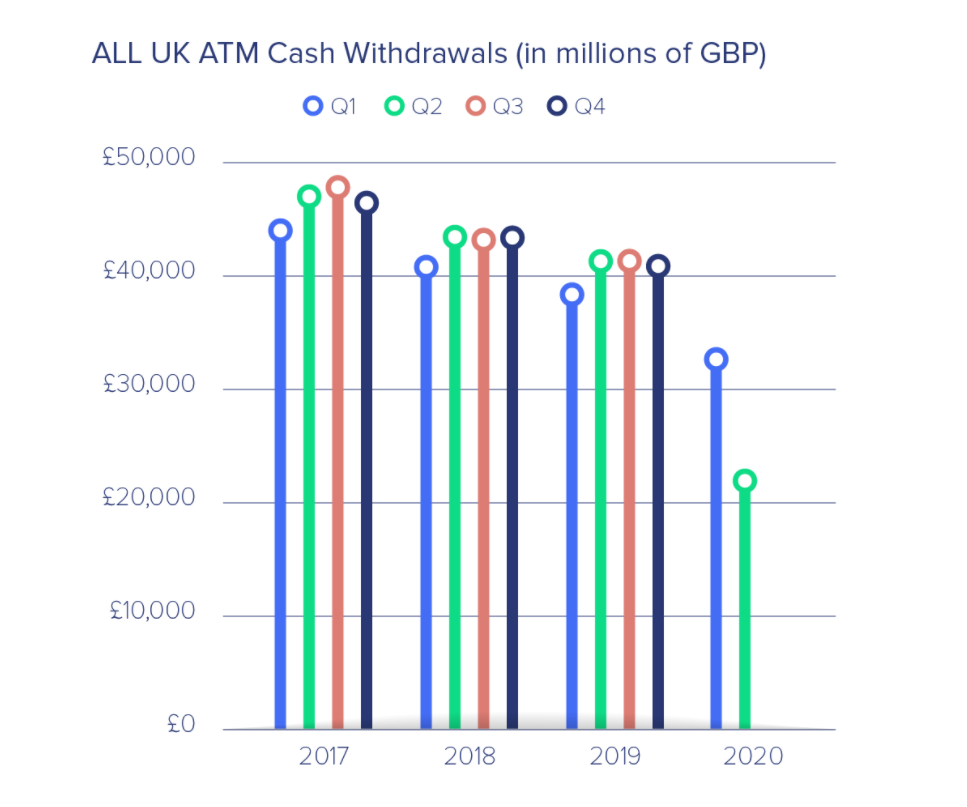 According to LINK, the UK's largest operator of ATMs, cash withdrawals have been declining throughout 2020, with sharp drops in March, April and May, which aligns with the 23rd of March announcement of a lockdown in the UK.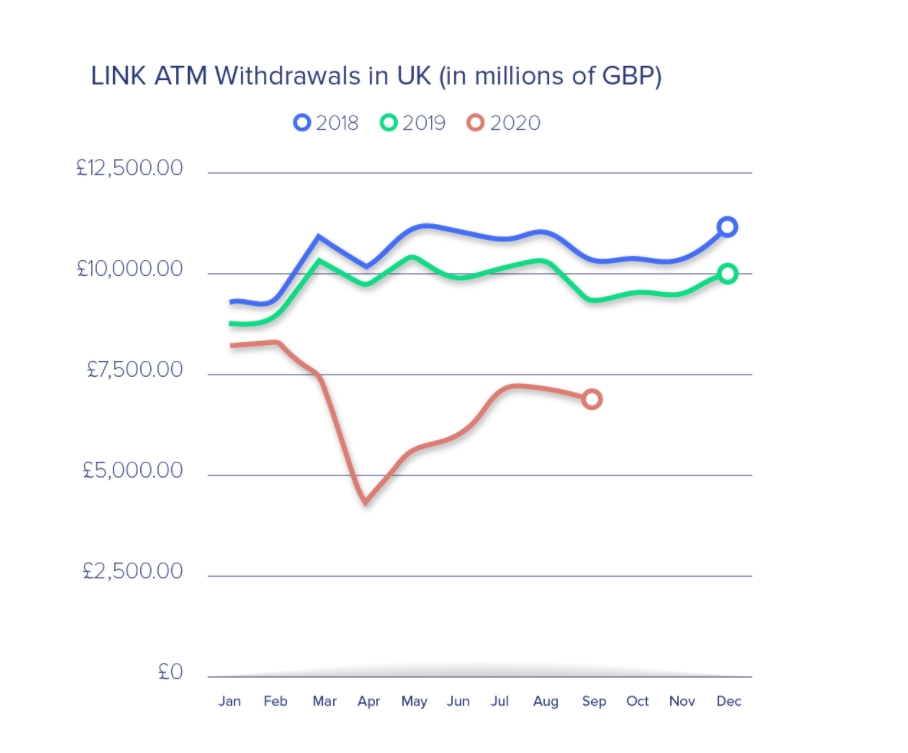 For years, the demand for cash has been falling. Whereas the adoption of digital payments has been on the rise as these newer methods of payment have become increasingly convenient and accepted.
For obvious reasons, during coronavirus lockdowns a mass migration to online shopping occurred and the demand for cash naturally dropped.
As can be seen from the chart above, the numbers never returned to the expected level.
The number of ATMs is falling
Not only has the value and volume of ATM cash withdrawals fallen in 2020, but the trend of decommissioning ATM units has also accelerated.
According to the European Association for Secure Transactions (EAST), the number of ATMs in Europe fell by 11,461 in the first half of 2020.
Not even a pandemic could stop the removal of cash machines.
Digital payment methods grab market share
During the first half of 2020; a period when most nations were experiencing the first wave of Covid-19 lockdowns, digital payment companies began to rapidly grab market share.
Some statistics from leading payment companies such as PayPal, Venmo, Ayden and Zelle are astonishing.
All companies show massive growth in user acquisition and transaction processing volume.
In the second quarter of 2020, PayPal's payment volume amounted to US$221.7 bn, which represents a 29% year-on-year growth. In the same period, PayPal's Venmo processed payment volume of US$37 bn, which means a52% year-on-year growth.
In the first half of 2020, payment facilitator Ayden processed volumes of €129.1 bn, which means a 23% year-on-year growth.
Similarly, Zelle processed volumes of US$133 bn, which represents a growth of 21% compared to the previous two-quarters.