South Korea's cards and payments industry is well developed, and the
country's consumers are prolific users of payment cards.
The average number of monthly card payments is estimated at 6.4 in 2018, which is among the highest figures in the Asia-Pacific region.
South Korea is also a highly mature market in terms of card penetration, with an average of 5.3 cards per inhabitant. A strong banked population and high levels of financial awareness have driven consumer adoption of payment cards in the country.
While credit cards continue to dominate the market, debit card payments have
grown quickly, supported by government measures to rein in growing card debt and encourage consumer us of debit cards.
In terms of both transaction volume and value, the South Korean payment card market is poised to grow rapidly between 2018 and 2022, as a result of initiatives such as the Coinless Society Project, reduced merchant service fees, tax benefits for card payments and robust growth in the e-commerce market.

Debit card growth
Debit cards account for 25.7% of the overall payment card transaction value.
However, the market recorded the fastest growth rates of the last five tears in terms of transaction volume, value and frequency of use, as the government is keen to increase usage.
Rising household debt has also prompted the government to introduce measures to discourage credit card spending. In August 2012, it passed a reform bill that increased tax deductions on debit card spending from 20% to 30%, and then to 40% for July 2014 to June 2015. These measures have helped to boost debit card growth.
Credit card market
Despite low penetration in comparison to debit cards, credit cards account for 78.7% of the total card payment value. This is primarily due to the rewards on offer and the instalment facilities available.
Competition in the credit card market is likely to intensify, with digital-only banks KakaoBank and K-Bank increasingly focusing on consumer credit. KakaoBank extended nearly KRW1.4trn ($1.31bn) in consumer credit loans in August 2017 alone, accounting for 40% of total loans in the country for the month. It offers credit loans and overdrafts at a minimum rate of 2.86% per annum – the lowest among South Korea's banks.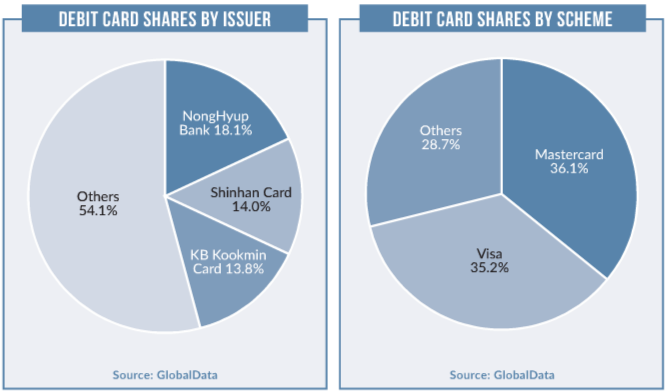 E-commerce growth
The overall e-commerce transaction value in South Korea is estimated at $55.82bn in 2018, registering a CAGR of 20% between 2014 and 2018. E-commerce growth provides significant potential for payment cards, and several card issuers offer cards exclusively for online shoppers.
Many card issuers also offer instalment facilities for online purchases. KB Kookmin Card allows credit card holders to convert purchases made at Interpark, Lotte.com, and AK Mall.com into a maximum of six interest-free instalments. Alternative payment methods such as Samsung Pay, Naver Pay, KakaoPay, UBpay, and Masterpass are also being used for e-commerce purchases.
Coinless society project
As part of the Coinless Society Project, the BOK initiated a pilot in April 2017, allowing merchants to transfer the remaining balance from the total payment value to a customer's bank account or other electronic payment instrument – such as a prepaid card – instead of returning it as physical money. If successful, this initiative will be expanded to include more merchants, helping to drive electronic payments.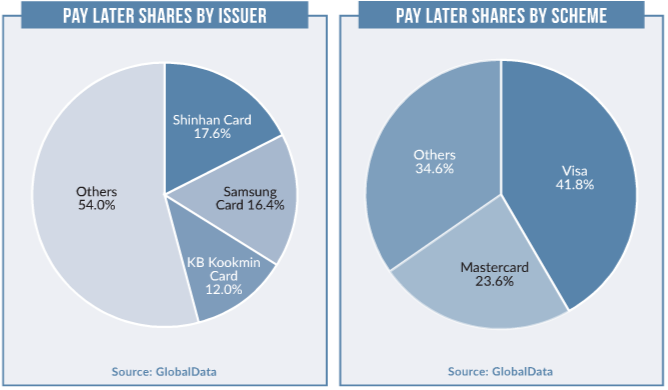 POS terminals
The number of POS terminals in South Korea recorded CAGR of 1.3% over four years, rising from 2.2 million in 2014 to 2.4 million in 2018. The increased number of POS terminals at retail outlets boosts the potential of card-based payments. Overall, the number of card payments rose from 13.1 billion in 2014 to 21.3 billion in 2018 at a CAGR of 12.8%.
This figure is anticipated to reach 29.1 billion by 2022. To benefit from the growing adoption of contactless payments in Asia-Pacific, Mastercard is planning to embed contactless acceptance within all POS terminals in the region, including South Korea, by April 2023.