Key payment and card market data and analysis for Sweden, Egypt and Belgium.
Sweden
Contactless use accelerates from low base
The Swedish cards and payments industry is well developed and mature, with Swedes being prolific users of payment cards. The frequency of use of payment cards in the country stood at 199.8 transactions per card per year in 2020 – among the highest in the world.
With the combined efforts of the Swedish government and banks to promote card payments and improve payment card acceptance infrastructure, the volume and value of card payments increased at respective compound annual growth rates (CAGRs) of 3.6% and 2.6% during the period 2016–20.
Payment cards are gradually replacing cash and are now used for small-value transactions at newspaper vendors and homeless magazine sellers, as well as for church donations. The country's well-developed infrastructure, affordable and widely available financial products, the strong presence of alternative payment methods, and the consumer preference for electronic payments have driven Sweden to become a less cash-dependent society. Apart from cards, Swedish consumers widely use mobile wallets for payments. Swish is the most popular mobile wallet brand in Sweden, while international brands such as Apple Pay and Google Pay also have a presence in the market.
Amid the Covid-19 pandemic, the payment market is undergoing major changes and Swedish consumers are increasingly opting for secure digital payments, further reducing the use of cash.
Debit cards dominate the payment card market
Debit cards are used extensively by Swedish consumers. With Sweden having almost a 100% banked population and consumers keen on using banking products and services, the frequency of debit card payments in Sweden stood at 283.4 in 2020 – among the highest in the world.
Debit cards are anticipated to continue to lead the Swedish payment card market over the period 2020–24f), supported by the increasing migration of low-value cash payments to debit cards.
Contactless payment cards to reach almost 20 million by 2024
Contactless card awareness and usage have both been on the rise in Sweden. In 2020 the number of payment cards that support contactless was estimated at 16.1 million – up significantly from 1.9 million in 2016 at a CAGR of 71.8%. The number is anticipated to reach 19.7 million by 2024. In March 2020, the contactless payment limit was increased from SEK200 ($21.41) to $42.82, which will further boost usage. All major Swedish banks and schemes now support contactless technology.
The ecommerce market registered robust growth
The Swedish ecommerce market, the largest in the Nordic region, registered strong growth during the period 2016-2020, increasing from $22.05bn in 2016 to $39.43bn in 2020 at a CAGR of 15.6%. The figure is anticipated to reach $61.48bn by 2024. Rising internet penetration and well-developed infrastructure have driven growth.
The increasing adoption of ecommerce among Swedish consumers has attracted global retailers. In October 2020, Amazon launched its first Nordic online store in Sweden. In May 2020, variety store chain Flying Tiger Copenhagen and bodybuilding equipment retailer Eleiko launched their online stores in Sweden.
The growth in popularity of online shopping events such as Black Friday and Cyber Monday has also contributed to ecommerce growth. Alternative payment solutions that offer security and convenience – including Swish, Klarna, and Apple Pay – are helping to boost online purchases.
Sweden's POS network is well developed
The country's POS network is well developed, with one POS terminal for every 43 individuals. However, the number of POS terminals recorded a 2016-2020 CAGR of -1.7%, falling from 257,874 in 2016 to 240,516 in 2020.
Payment service providers are taking steps to increase adoption of mobile POS terminals among smaller merchants. iZettle, a popular payment service provider headquartered in Sweden, transforms smartphones into mobile POS terminals. iZettle allows merchants to receive card payments via a standard smartphone or tablet. Similarly, payment service provider SumUp offers its card readers in Sweden, enabling merchants to accept all types of payments, including contactless, chip and PIN, Google Pay, and Apple Pay.
In September 2020, electronic solutions provider Epson launched TM -m30II -S, a tablet -based mobile POS solution for independent software vendors in the retail and hospitality industry. The solution supports both Android and iOS tablets.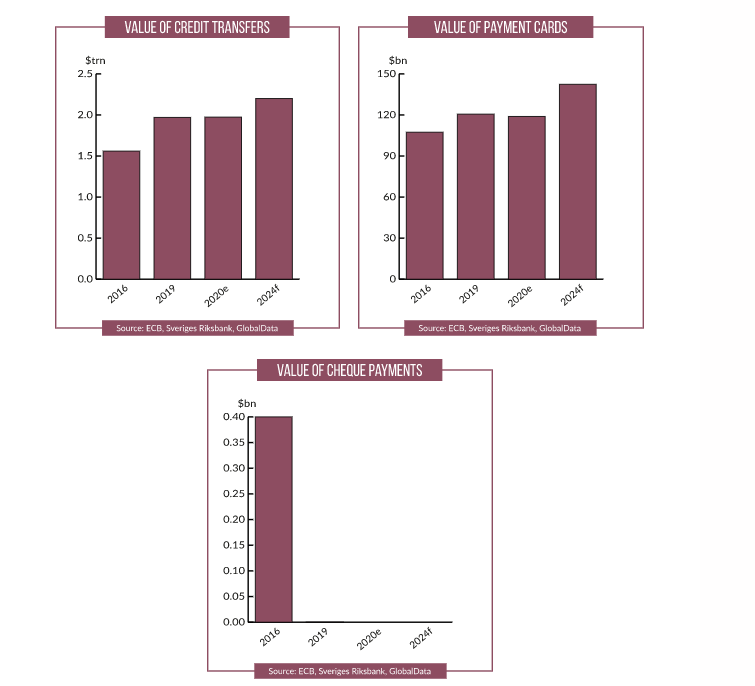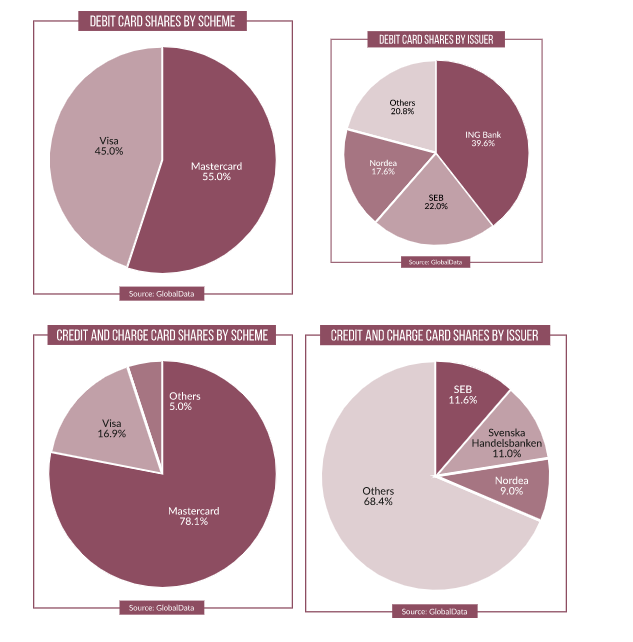 Egypt
Egyptians remains wedded to cash
Egypt remains a cash-driven society, with consumers preferring to use cash for day-to-day transactions. Cash accounted for 74.7% of overall payment volume in 2020. Payment card penetration in Egypt stood at 21.5 cards per 100 individuals in 2020 –among the lowest in comparison to peers South Africa, Morocco, and Nigeria. This is due to the country's large unbanked population and limited financial awareness.
With the government working to improve financial inclusion and infrastructure, the use of payment cards is expected to increase over the period 2020–24f.
To boost non-cash transactions, the Central Bank of Egypt (CBE) is restricting cash and cheque payments, focusing on mobile payment accounts, and introducing new laws to promote electronic payments. Meanwhile, commercial banks are expanding their branch networks as well as adopting the agent banking model to bring more people into the formal banking system.
These ongoing efforts resulted in Egypt being one of three countries selected for the Financial Inclusion Global Initiative by the World Bank Group, the Committee on Payments and Market Infrastructure, and the International Telecommunications Union.
Amid the Covid-19 pandemic, the payment market is undergoing a major change and Egyptian consumers are increasingly opting for secure payments such as contactless –a step towards cashless payments.
Credit cards are preferred for payments
The Egyptian credit card market is still in the early stages of development, with low penetration (similar to its regional counterparts). This is primarily due to religious reasons, limited consumer awareness, high unemployment, and stringent credit policies. Yet despite lower credit card penetration than for debit cards, they are preferred for payments, accounting for 73.8% of total card payment value in 2020. This is mainly due to banks promoting credit card usage by offering discounts, cashback, and installment payment facilities.
Ecommerce growth has been robust
Ecommerce in Egypt registered robust growth, increasing from EGP46.2bn ($2.88bn) in 2016 to $6.88bn in 2020 at a CAGR of 24.3%. Strong ecommerce growth is encouraging companies to launch digital platforms in the country. The availability of alternative payment solutions that offer security and convenience is also encouraging online purchases. A study conducted by Mastercard amid Covid-19 in November 2020 revealed that over 72% of Egyptian consumers had shopped online since the start of the pandemic.
To capitalise on the growing ecommerce space, new online platforms are launching in Egypt. Noon launched its operations in Egypt in February 2019, followed by Swedish multinational clothing brand H&M in November 2019 and adidas in October 2020.
Prepaid cards are popular in Egypt
The popularity of prepaid is largely due to the high unbanked population. These cards are used for various purposes, such as payroll, gifting, and travel. The number of prepaid cards increased from 8.6 million in 2016 to 18.8 million in 2020 at a CAGR of 21.4%. Similar growth occurred for transaction value. This was supported by the government via initiatives to convert electronic salary cards to Meeza prepaid cards. The rollout of innovative prepaid payment solutions such as wristband devices is also supporting prepaid card growth.
To increase card uptake and usage, banks offer discounts and cashback. Banque Misr offers gift cards in three variants: Teens, Hedeya, and Hayaty. These are non-renewable cards with a validity of two years. They also offer lucrative benefits such as Mastercard's Buy 1 Get 1 offer at partner stores in Egypt.
Improved payment infrastructure is driving electronic payments in the country
The number of POS terminals recorded CAGR of 12.5% between 2016 and 2020. This was also supported by CBE initiatives, and driven by an increase in the number of POS terminal installations at smaller retail outlets. In order to boost card transactions in the country, in April 2019 the National Post Authority of Egypt installed 7,000 POS terminals at government institutes, universities, traffic departments, and registration offices under the supervision of the central bank.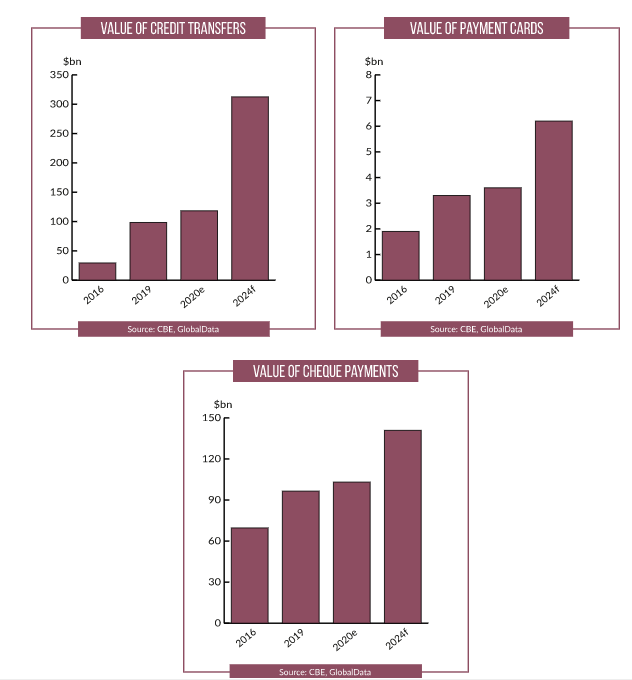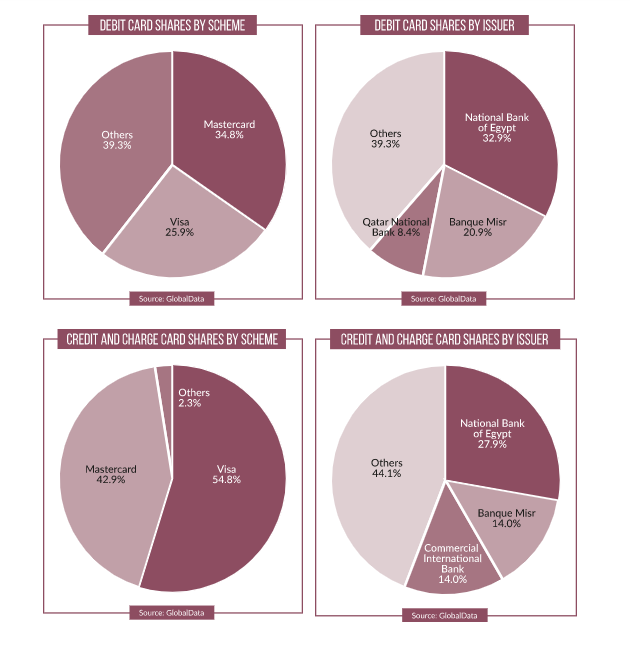 Belgium
Bancontact dominates the debit card market
The Belgian payment card market can be characterised as rapidly growing, regulated, and innovative. Card penetration in the country stood at 3.5 cards per individual in 2020.
Persistent efforts from Belgian financial authorities and banks to ensure a robust banked population (which stood at 98.8% in 2020), a high level of awareness of electronic payments, and increasingly developing payment acceptance infrastructure have been successful in encouraging consumers to use electronic payment methods for day-to-day, recurring transactions. Consequently, the share of cash within total payment volume declined from 43.4% in 2016 to 35.5% in 2020.
Besides cards, customers are increasingly embracing mobile-based payments including the likes of Payconiq by Bancontact, Apple Pay, and Google Pay. Meanwhile, the country's growing ecommerce market will further aid the uptake of electronic payments. Covid-19 will also act as a catalyst. Although the pandemic is expected to impact consumer spending – in turn affecting the payments industry – there has been a rise in the use of electronic methods of payment at the expense of cash.
Historic fees advantage gave Bancontact market dominance
Belgian consumers strongly favour debit cards over other cards. National debit card scheme Bancontact accounts for over 94% of overall debit cards in circulation. Until a cap was implemented by the EU in 2015, its lower interchange fees compared to international schemes gave it a significant edge in the market – and the new fee rules have had little impact on its dominance. In order to offer enhanced convenience to users, Bancontact has focused on issuing contactless cards, enabling debit card holders to make transactions of up to €50 ($56.14) without needing to enter a PIN.
Credit cards are yet to gain traction
Credit cards are not very popular in Belgium, primarily due to the consumer preference for debt-free payments. The availability of overdraft facilities also reduces demand. Credit cards accounted for just 4.8% and 6.4% of overall card payment transaction volume and value in 2020.
But with the debit card market edging towards saturation, the underserved credit card space could prove lucrative for banks. To support credit card penetration, banks are providing credit cards as part of bundled packages and offering value-added services such as cashback.
The ecommerce market registered healthy growth
The Belgian ecommerce market value rose from $10.19bn in 2016 to $13.98bn in 2020. Growth was mainly due to a rise in internet penetration, an increase in smartphone users, and a general shift in the shopping behaviors of Belgians.
The growing popularity of online shopping events such as Belgian Friday, Black Friday, and Singles' Day have also contributed to ecommerce growth. The outbreak of coronavirus has made online purchasing more appealing. In December 2020, Brussels-Capital Region launched the mymarket.brussels online shopping platform for small and local businesses in Brussels, enabling them to sell their products online. Similarly, in April 2020 the municipality of Ixelles launched an online shopping platform to help and support local businesses amid the pandemic.
Prepaid card sector forecast to grow
To increase the adoption of prepaid cards, banks are targeting specific consumer segments such as online shoppers and travelers. KBC Bank offers the Mastercard prepaid card for an annual fee of $13.47. This card is accepted worldwide; up to $5,613 can be loaded to the card.
The card includes contactless functionality and can be applied for online. Gift cards are also popular in the country. bpost bank issues the bpaid gift card in association with Mastercard. The card can be loaded with $11.23 to $2,806 and is available for individuals as well as businesses. The card has a maximum validity period of one year. It can be used for both in-store and online purchases.
Improved payment infrastructure is driving electronic payments in the country
The number of POS terminals recorded a 2016-2020 CAGR of 5.7%, increasing from 190,249 in 2016 to 237,279 in 2020. This figure is set to reach 275,851 by 2024. Companies offer comprehensive and integrated POS solutions to small merchants. myPOS introduced myPOSGo terminals for $32.56.
The terminals work with all types of cards as well as Apple Pay and Google Pay. To offer enhanced convenience to its customers, myPOS launched its first store in Belgium in July 2019. Meanwhile, Ingenico and telecom operator Orange Belgium launched the Orange Pro Payment mobile POS solution for SMEs in February 2017.