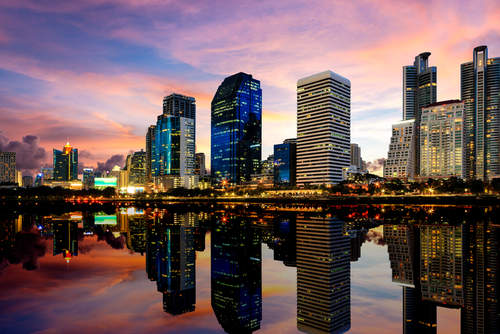 In a move to expand mobile payments in Thailand, Krungsri Bank and Kasikornbank are aggressively promoting mobile point of sale technology.
The payment service is supported by Visa and powered by SCCP Group's Swiff mobile-payment platform.
Since the launch of MPOS last September, the number of merchants adopting it has been small, said Thakorn Piyaphan, managing director of Krungsri Consumer.
"We have expanded the MPOS technology for use with Android smart phones and not only iPhones and iPads, and now it also accepts debit cards as well as credit cards. We believe this expansion will help increase the number of merchants using it", he said.
In an effort to make mobile payments a more popular option amongst small businesses and delivery services, Krungsri has simplified the registration process for the payments system.
"We are also hiring an outside company to sell the MPOS payment system to small businesses because this kind of customer needs to be educated on the technology. We believe MPOS transactions will be increased soon," Thakorn said.
As a result, Krungsri aims to sell 15,000 MPOS accounts to merchants by the end of the year.
Likewise, Kasikornbank executive VP Chatchai Payuhanaveechai said the bank had 10 corporate partners planning to use MPOS and aims to sell more than 20,000 MPOS accounts by the end of the year.
Kasikorn launched K-Merchant on Mobile last October with partners Nok Air, Muang Thai Life Assurance and Amway (Thailand).
"The next stage is to focus on small businesses such as delivery services and direct sales, and we have set up a sales team to offer K-Merchant on Mobile to merchant customers. We will offer free MPOS to merchants that have monthly transactions of more than THB50,000 ($1,750) and gift vouchers to encourage small and medium-sized enterprises to use MPOS," Chatchai said.
Merchants normally pay THB2,500 ($88) for MPOS, lower than electronic data capture (EDC), for which they have to pay a monthly fee of about THB500-THB1,000 ($17 – $35).
Related Articles