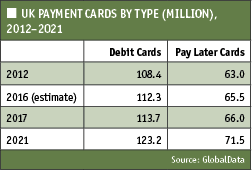 A new interactive map by analytic software firm FICO has revealed 8% decrease in payments card fraud across the UK in 2017, which is said to be the first drop since 2011.
The map is based on data obtained from Euromonitor International and UK Finance, and analyses card not present (CNP) fraud changes in Europe.
Apart from the UK, France also achieved 6% drop in net fraud losses.
FICO fraud consulting director Toby Carlin said: "The UK threat of CNP has been persistent and growing extensively over the past seven years.
"Through huge investment in innovation and R&D into the preventative platforms used by the UK banks, they have now turned the tide. While this is fantastic news for the UK, it should come as a significant warning to other markets for the impending migration of attack."
However, across the 19 countries surveyed total card fraud losses grew by €30m, or 2%.
Card fraud losses surged in eight countries. The losses were found to be more in Hungary, which registered around 300% rise in CNP fraud losses over the last three years, followed by Denmark with double CNP losses during the same period.
FICO noted that fraud levels in the UK are anticipated to further decrease this year, while the crime in Hungary and Denmark do not have any indications of mitigating.
Furthermore, increasing trends in cyber-enabled crimes were observed and set to surpass plastic fraud by 2020.
FICO added that European markets are seeking a new prevention mechanism to tackle the payments card fraud.
Carlin added: "Fraud defence must be real-time, based on a collaboration of prevention effort, and utilise machine learning and artificial intelligence.
"It must also be channel-agnostic, operate at an enterprise level, incorporate data seamlessly into real-time decisions, and enact automated customer interactions and authentication without the need for human intervention."