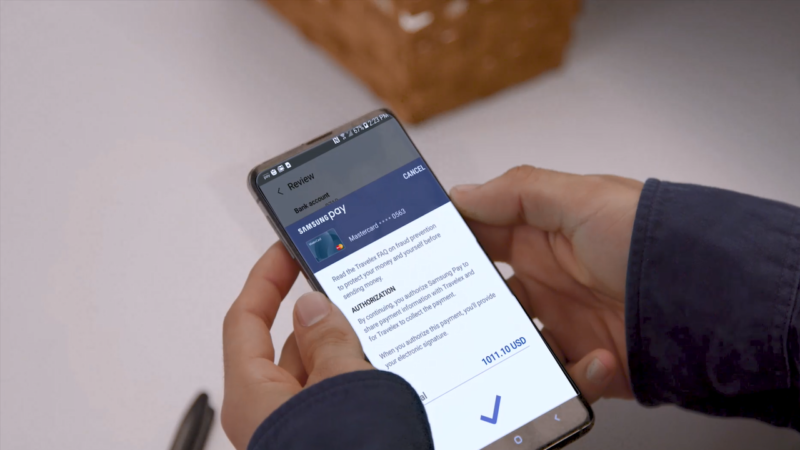 Global payments platform Finablr has partnered with Samsung America to introduce a new money transfer service.
The Money Transfer feature, part of Samsung Pay, aims to offer more secure and seamless cross-border payments to 47 countries. To do this, it will use a variety of payment methods within Samsung's mobile wallet.
Sang W. Ahn, VP & Division Head, Content & Services, Samsung Electronics America, said: "Our consumers are global and have friends and family around the world. Samsung is excited to enable users to send money to the rest of world by making it simple, secure and transparent.
"Money Transfer is a first step in our vision to evolve Samsung Pay and make users' financial lives more convenient. The range of services in Samsung Pay, developed in close collaboration with industry leaders such as Finablr, positions us to positively impact consumers' everyday financial experiences."
US Samsung Pay users can use their existing pre-registered debit or credit cards to send money via Finablr's global network.
What does it offer?
The new feature hopes to offer convenience through a variety of digital and physical payout methods. Additionally, users can access fees and exchange rates upfront so they will know how much to pay before transferring funds.
Furthemore, to make the app more secure, Finablr used tokenised credentials.
Promoth Manghat, Group CEO at Finablr, said: "We're delighted to be partnering with Samsung to launch this new in-app feature. Underpinned by our integrated technology platform, this service demonstrates our ability to drive payments innovation.
"Combining our industry-leading network and pioneering technology with Samsung's leadership in the mobile device market, allows us to innovate at a scale that is unique in the US$127 trillion global cross-border payments market.
"This partnership advances our mission to meet the evolving needs of financial consumers. It also further strengthens our position as a partner of choice for global payments and technology companies."
Money Transfer in Samsung Pay is available in the US and will expand to other markets in 2020.