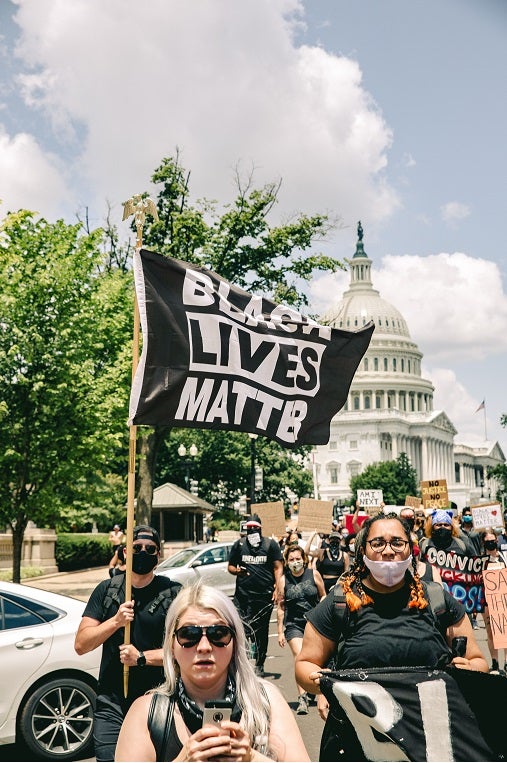 Since the death of George Floyd, the Black Lives Matter movement has gained traction across the globe, with protests being held not only in America, but in London, Brussels, and Paris as well. But, how has the financial services industry responded? Evie Rusman looks at the major card companies fighting the cause
In May, four Minneapolis police officers arrested George Floyd, a 46-year-old black man, after a shop employee rang 911 claiming Floyd had paid using a counterfeit note. Less than ten minutes later, the police had Floyd pinned to the ground, where he was showing no signs of life.
George Floyd's death sparked outrage across the globe, resulting in millions of people taking to the streets calling for an end to racism and police brutality. To further the fight, many organisations, including those in the FS sector have introduced policies and initiatives designed to support the movement.
Visa
Visa has committed to five actions to help the BLM movement:
Establishment of Visa Black Scholars and Jobs Programme. Visa will establish a $10m fund to create a Visa scholarship assistance programme over the next five years, specifically for college-bound Black and African American students. Upon graduation, all recipients who have met their commitments will be guaranteed a full-time job with Visa.
Double matching for donations to support social justice and equality. In June, Visa double-matched Visa employee donations, up $1m, to key organisations that support racial justice and equality.
More conversation as a Visa Community. The company will hold a series of open forums for conversations on racial equality, race relations, inclusion, diversity and related topics.
Help for colleagues who need it. Visa is offering external support for the Black and African American community through 24/7 counselling and referral services through our Employee Assistance Programme.
Helping leaders engage on social injustice. Visa is providing guidance and direction for leaders to facilitate meaningful ongoing dialogue with their teams, and specifically with Black and African American employees.
Speaking on the BLM movement, Al Kelly, Visa CEO, says: "The senseless deaths of Ahmaud Arbery, Breonna Taylor, George Floyd and other Black Americans should be a springboard to action, dialogue and change. We at Visa unfortunately cannot control all that happens in America, but we can certainly do our part. As a company we are on a journey to be inclusive and diverse. We have made progress, but not enough. Visa is committed to do more to help stop discrimination and racial injustice in America."
Mastercard
As part of its partnership with the National Urban League, Mastercard is making a new $5m donation to support their mission of enabling African Americans and other underserved communities to secure economic self-reliance, parity, power and civil rights. In addition, the Urban League is now live on Mastercard's new donation platform.
Mastercard is also looking at its hiring and talent development practices to make sure it is creating the right opportunities for team members of colour.
In a blog post, the company states: "We hear the call that Black Lives Matter, and we wholeheartedly agree. Racism is against everything we stand for as a company, as a community, as individuals who strive to live peacefully, joyfully. The recent tragedies in the U.S., building on a long history of racial prejudice and injustice, are heartbreaking, frustrating and​​ demand action."
PayPal
PayPal is another company putting its money where its mouth is. Last month, the payments giant committed $530m to support Black and minority-owned businesses and fight inequality.
Dan Schulman, PayPal CEO, says: "For far too long, Black people in America have faced deep-seated injustice and systemic economic inequality. Black lives matter and we need to drive transformative change. We must take decisive action to close the racial wealth gap that sustains this profound inequity."
As part of the commitment, $500m will go to creating an economic opportunity fund that will support and strengthen Black and underrepresented minority businesses and communities over the long term. Another $10m will be used for empowerment grants to Black-owned businesses impacted by Covid-19 or civil unrest. Meanwhile, an extra $5m will fund programme grants and employee matching gifts for non-profit partners working with Black business owners.
Furthermore, PayPal is using $15m to improve the company's internal diversity and inclusion programmes.
Schulman adds: "We've listened to leaders in the Black community about the challenges facing Black business owners and the support and investments needed to sustain Black-owned businesses and create long-term economic opportunity. The holistic set of initiatives we are implementing are designed to help address the immediate crisis and set the foundation for sustained engagement and progress towards economic equality and social justice."