Scotiabank is working to develop fintech initiatives in five key markets: Canada, Mexico, Chile, Peru and Colombia. Robin Arnfield talks to Dubie Cunningham, Scotiabank's VP, enterprise innovation, and Thayde Olarte, VP, fintech partnerships
In February 2017, Scotiabank said in an analyst presentation that it would spend C$1.3bn ($1.06bn) on digital technology in the next three years to become a digital banking and customer experience leader in its five key markets: Canada, Chile, Colombia, Mexico and Peru.
Scotiabank president and CEO Brian Porter has publicly stated that Scotiabank sees itself as being in the technology business. As if to confirm this, an IDC Financial Insights report, Canadian Banks: Digital Transformation & Maturity Level by Robert Smythe and Jason Bremner, says: "While [Scotiabank's] product is banking, it is largely delivered through technology."
Pacific Alliance Region
The Pacific Alliance trade bloc comprises Chile, Colombia, Mexico and Peru. In the region, Scotiabank has partnered with venture capital company QED Investors and with NXTP Labs, a Latin American fintech startup accelerator.
In support of its strategy to become a key Pacific Alliance player, Scotiabank agreed to buy Spanish bank BBVA's 68% stake in BBVA Chile in December 2017. Scotiabank plans to merge BBVA Chile with Scotiabank Chile, subject to regulatory approval.
"This acquisition allows us to create a leading bank in Chile, underpinned by a solid risk culture, and provides opportunities to accelerate our digital transformation while building a high-performance team," Ignacio (Nacho) Deschamps, Scotiabank's group head, international banking and digital transformation, said at the time.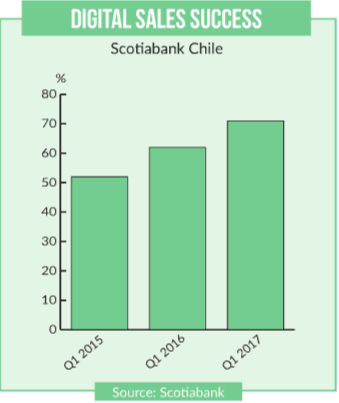 Digital Transformation
"Scotiabank embarked on a major digital transformation program two years ago," says Cunningham. "We realised our customers' expectations are changing as there are a lot of new customer experiences which they have access to."
Two key pillars in Scotiabank's transformation are technology investments and changes to its culture.
"A key element of our strategy is looking externally from ourselves to the international fintech ecosystem to help us and participate in the global digital transformation process," explains Cunningham. "After looking at other banking and fintech success stories around the world, we decided to do this via partnerships."
Scotiabank's five Digital Factories – in Toronto, Canada, Chile, Colombia, Mexico and Peru – are the focus for its partnerships with fintechs, research institutions, venture capitalist companies and other participants in the fintech ecosystem.
Universities
Cunningham says Scotiabank has built numerous strategic sponsorship programmes with universities in Canada. These include the Scotiabank Disruptive Technologies Venture at the Rotman School of Management, which supports initiatives such as the Creative Destructive Lab program focused on machine learning and AI ventures; the Scotiabank Design Thinking Research Studio at OCAD (formerly the Ontario College of Art and Design) University; the Scotiabank Digital Banking Lab at Ivey Business School at Western University; the Scotiabank Centre for Customer Analytics at the Smith School of Business at Queen's University; and the Scotiabank Professorship in Technology Entrepreneurship and Innovation at St Mary's University.
"When we create new partnerships with the academic community we look at how we can help foster the new generation of bankers and fintech entrepreneurs," Cunningham says.
Incubators
To help spur fintech developments, Scotiabank has dozens of "proofs of concept" and pilots underway with fintechs around the world, Cunningham says. A key element in this process is to incubate ideas within Scotiabank's Digital Factories.
"We incubated a Canadian fintech ourselves and spun it off, Deep Learni.ng," says Cunningham. "This generated a lot of learning."
Deep Learni.ng uses AI to anticipate which customers are likely to default on loans. "It uses large amounts of data and neural networks to see who needs to be reminded about past-due dates and who is getting into difficulty with debt," Cunningham explains. "Using Deep Learni.ng's powerful prediction tool, we can better anticipate our customers' credit issues and help them earlier on."
Scotiabank does not take equity positions in the companies with which it works in the Digital Factories, but sees its involvement as a strategic play to learn about and enter new markets. "We do, however, make selective equity investments in fintechs," says Cunningham. "For example, in common with Canada's other big banks, we have an investment in SecureKey."
In October 2016, major Canadian financial institutions such as BMO, CIBC, Desjardins, RBC, Scotiabank and TD invested C$27m in digital ID ecosystem developer SecureKey. Scotiabank also has an investment in US-based online lending technology business Kabbage, with which it has partnered through its Digital Factory to provide small business loans in Canada and Mexico. The Kabbage partnership enables Scotiabank to offer loans to Canadian and Mexican small businesses. In August 2017, Japan's SoftBank invested $250m in Kabbage.
"We started to think about how our requirements need to evolve from traditional ways of banking and how we needed fresh new thinking in several areas, including branches, customer experience and risk," says Cunningham. "We have partnerships with risk and fraud specialists, for example in Israel."
In December 2017, Scotiabank announced partnerships with leading Israeli companies Viola Group and Team8, which have expertise in fintech, cybersecurity and fraud prevention. This includes an unspecified investment in Viola Fintech I, a venture fund that invests in Israeli, European and North American fintechs in various stages of growth.
Digital Factories
"2018 is the break-out year for our five Digital Factories," Cunningham continues. "They are using design thinking and agile methodology to create brilliant new technology in step with the fintech community."
A key role the Digital Factories play is to achieve cultural transformation within Scotiabank. "One of the most successful things about the programme is that our people have learned a lot from startups in terms of looking at problems in different ways, new business models, and new ways of approaching the market differently, while putting customers first," says Cunningham.
"The fintechs have also gained a lot. Scotiabank has 24 million customers and a huge geographical service area. We're used to building large-scale bank-grade projects and technologies, and we are experienced at dealing with regulators and helping customers to have a great experience. Through Scotiabank joining forces with fintechs, the sum of the parts is greater than the individual companies. We benefit and fintechs benefit."
Mobile banking platform
Scotiabank has a major effort underway to upgrade its mobile banking platform.
"One of the exciting things about the Digital Factories is collaboration on mobile banking across the geographies," says Cunningham. "We have an integrated, cross-geography view and approach to innovation. Canada may create the underlying infrastructure, and then Mexico or another country in the Pacific Alliance region will create the top user experience layer for that country. But we co-create and closely integrate the infrastructure in our Digital Factories.
"One of our key goals is to increase our customers' adoption of digital banking, and to extend our digital reach to customers," Cunningham continues.
"In Canada, we have rolled out support for all the Pays – Apple Pay, Samsung Pay, Google Pay – and we expect digital payment adoption to increase. We want to be where our customers want us to be – whether this in social media messaging apps or in chatbots."
Latin America
"There are nearly 800 fintechs in Latin America, but it is still nascent," says Olarte. "Brazil, Argentina and Mexico are at the top of the fintech ecosystem growth cycle."
Although Scotiabank does not operate retail banking businesses in Argentina or Brazil, it can tap into those markets via QED Investors, which makes equity investments in local companies with portable business models.
"QED Investors has investments in Brazil and Mexico," adds Olarte. "Its portfolio includes six companies in Brazil and two in Mexico. We want to grow organically in Chile, Mexico, Colombia and Peru, as witnessed by our investment in BBVA Chile.
"But Scotiabank is market-agnostic when scouting for promising technology startups, and we see Brazil and Argentina as part of our fintech program. There are also opportunities to grow our fintech penetration in Mexico, the Caribbean and Central America, and we've been engaged with some companies in the Caribbean and Central America."
"While we expect to see fintechs emerging from many countries – for example from Costa Rica or Jamaica. We anticipate the ones with the most successful growth will come from Brazil, Mexico and Argentina."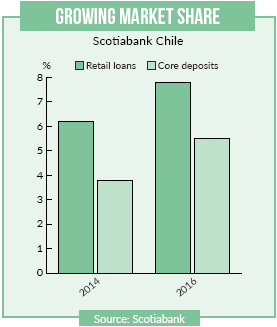 Non-traditional lending
Olarte says non-traditional lending is a major emerging area in Latin America. "If you visit Silicon Valley in California, you will see dozens of non-traditional lenders," she says. "There is an opportunity for Latin American fintechs to emulate their business models."
Olarte says NXTP Labs is mentoring and investing in Latin American fintech startups, especially in non-traditional lending, and is providing Scotiabank with access to these companies.
"Lending is very relevant in Latin America, as in most countries in the region only about 50% of the population has a bank account," she says. "The exception is Chile where the level of bancarisation is 60-70%. The fintechs active in lending help people with no credit history gain access to loans, and we want to use transactional data to provide services and offers for them."
Olarte adds that Scotiabank executives in its Chilean, Colombian, Mexican and Peruvian businesses work with regional fintech partners. "This helps the executives learn," she says.
"Another bonus is that Scotiabank is able to invite fintechs from Latin America to its Toronto Digital Factory to showcase their business models to them," says Cunningham. "We're also inviting some Israeli fintechs to come so we can introduce them to the Latin American region. We believe in cross-pollination across the continents. Fundamentally, it's not about technology but about changing our culture to be customer-centric and borderless."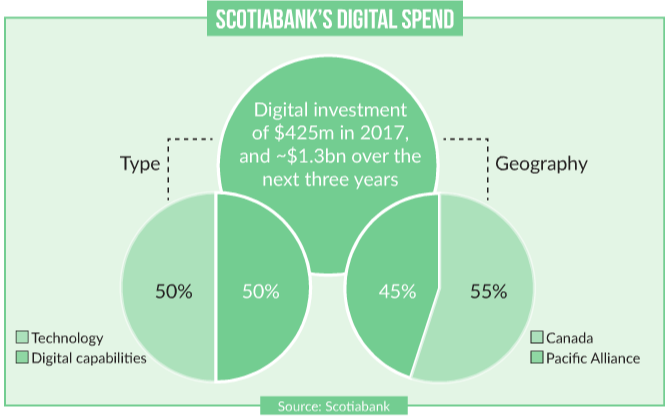 The Blockchain
"Like AI, blockchain offers a real and definite opportunity for us," says Cunningham. "We want to leverage it as a rail to improve existing banking and payment processes. The blockchain can be used to reimagine many business models."
Scotiabank has been carrying out pilots and proofs of concept of the blockchain, she says. "We're in our third year of working in the blockchain area to demonstrate that blockchain-based payments are viable. For example, we are a member of the R3 blockchain consortium, as we believe in working with other members of the ecosystem, such as banks."
While payments are one of the most viable use cases for the blockchain, it also has potential in closed groups like the capital markets where there are only a few network participants, Cunningham says.
"The blockchain can also be used within the organisation, for example for interconnection between different applications," she says. "We've built and filed a patent for a blockchain that interconnects applications, and we have this technology in production in our Toronto Digital Factory cafeteria.
We're testing the blockchain for payments in this cafeteria on an open-source basis, so that young developers get a feel for using the blockchain and start to imagine applications for it. Another use case is to put the blockchain on an internal ledger for moving money between branches."
Scotiabank is also testing an internal ledger system on the blockchain for the purpose of moving money between its Canadian branches, Cunningham says.