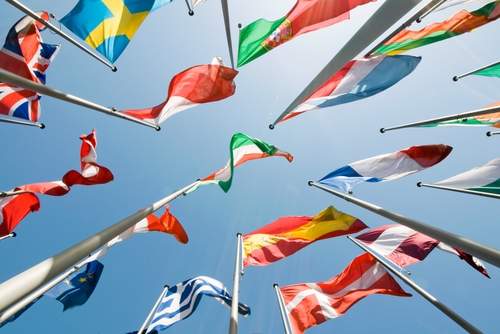 There has been a spate of cross border account services launched of late, shining a light on demand for pan-European, to quote ipagoo's slogan, services.
TransferWise and ipagoo launched/re-launched in the last couple of months and most recently, Monese has stepped into the fray with a similar offering. Between them they seek to serve consumers and SMEs that conduct their financial affairs between countries, be it for business or otherwise.
Monese will offer an expanded version of its MasterCard prepaid account and mobile app, making it available in 19 more countries across Europe, additional to the UK. Local language account management is a key feature as well as accounts being available in euro and sterling. Those working in different countries can have their salaries paid into their local account.
It is yet another service to overlap and compensate for a gap in the traditional banking offering: that of moving money between countries. There are fees attached, naturally. The monthly cost is £4.95 and this includes ten free transactions- although only five from 1 August 2017. Thereafter, it is 50p per withdrawal. ATM withdrawals and purchases in non-pounds sterling are charged at the MasterCard wholesale exchange rate plus 0.5% of the transaction value. These pale into comparison of some of those issued by tier 1 banks for cross border transfers, which can be as much as £40.
Sooner or later the likes of Monese may look to be bought by a bigger bank. Transferwise, has outgrown that category and seems to be flying rather well solo, having announced profitability at the beginning of 2017.
The so-called pan-European bank ipagoo first surfaced in 2015, with news of launching in four key European markets (UK, France, Spain and Italy) with the fifth, Germany, hotly following suit.
It is a mobile app and debit card allowing users to bank in multiple European countries and it does away with what is often the main barrier to opening an account in a different country- that of providing proof of address.
Upon sign-up, the user uploads a geo-location-tagged selfie with ID document while present in the registered address.
For £5, the account holder gets one current account, one debit card, an allowance of three faster payments per month and unlimited free transfers between ipagoo accounts. It is targeted at those who own second homes in European countries and need to make monthly mortgage payments. Or foreign students in the UK who need to operate their finances between countries.
Fees are "progressive", depending on how many accounts you have and your usage. After the free allowance of three international transfers, these are charged at £4/€5/$7. BACS and CHAPS are more like banks fees, at £20/€24/$27 a pop. Currency exchange is 0.5%
Meanwhile, British P2P money transfer firm Transferwise has launched a similar account, having gone from strength to strength and announced profitability at the start of 2017. Currently it processes transfers in 750 currency combinations to the value of $1bn per month.
The account is called Borderless and has launched in the UK and Europe, ahead of the US in June. So far it is SMEs but Transferwise aims to extend the service to consumers later in the year.
"With the unique platform we've built, we're looking forward to creating a new kind of financial services for the future," founder Taavet Hinrikus said.
The account will allow SMEs to hold, get paid in and transfer money between more than 15 different currencies. Account holders are given a proxy bank account number in pound sterling, euro and US dollars, meaning they can be paid by others in these currencies as if they were local.
Additionally, money can be held in the following 15 currencies to avoid exchange rate movements.
British Pound, Australian Dollar, Canadian Dollar, Swiss Franc, Danish Krone, Euro, Hong Kong Dollar, Hungarian Forint, Japanese Yen, Norwegian Krone, US Dollar, New Zealand Dollar, Polish Zloty, Swedish Krona, Singapore Dollar
Beyond this, money can be sent to over 50 countries in total, including the above. There is a fee per transfer, which they say is up to eight times cheaper than banks and is between 0.5 and 1%. The exchange rate is "real, like the one you see on Google". The website demo shows that if you send pounds to France, you pay pounds into your Transferwise UK account. The recipient account is credited with euros from Transferwise's French account.
Monese's Koppel, and TransferWise's Hinrikus were both inspired to create such accounts based on their own personal experience of re-locating between European countries, and ipagoo's Carlos Sanchez spent time travelling between countries.
Many European banks have subsidiaries or partners in different countries but these are for the most part entirely different entities, often ignored by the parent company, seldom on the same platform and in receipt of negligible investment to boot. It is about time such services came into being, it is staggering to think it is only now this is happening. And not a little ironic, too, at a time when the powers that be in Britain want to shrink European ties.
Proliferation of these kinds of services, which is nigh on inevitable in the wake of PSD2 and Open Banking, simply shines light on what is, for many, a baffling paradox.