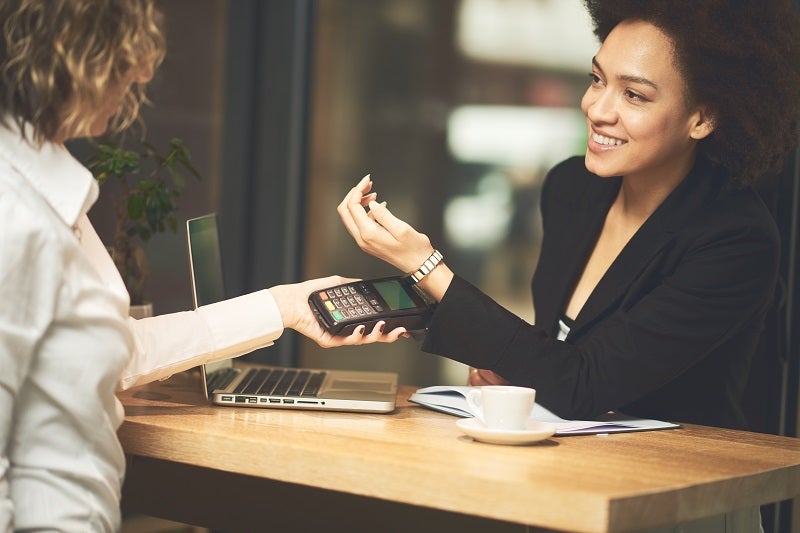 Wearable payments have been on the market for some time, with consumers now able to make payments via watches, bracelets, rings and so on. And as the sector is expected to achieve rapid growth, more and more financial institutions are jumping on the bandwagon. Evie Rusman writes
Consumers are far less patient than they used to be, with many demanding faster, more convenient ways to pay all the time.
Even entering a credit card PIN is considered too time consuming these days. This changing consumer attitude has resulted in a rise in the use of wearables and mobile wallet payments, such as Apple Pay and Google Pay.
In 2019, the global wearable payments market was valued at $285.47bn and is projected to reach $1.37trn by 2027, growing at a CAGR of 21.7% between 2020 and 2027.
Not to mention Covid-19 has caused a rapid shift towards contactless payments due to issues surrounding "dirty" cash.  So, with such a bright future ahead, now seems like the perfect time for FIs to invest in wearables.
KBC and equensWorldline
The latest to tap into the market is Belgian bank-insurer KBC, who has become the first in the country to offer its customers wearable payments.
According to KBC, the offering is the first co-badged wearable in the world and can be in the form of a watch, bracelet, key fob or ring. It means that users can make payments via multiple schemes with various types of devices.
Worldline subsidiary, equensWorldline, processes the payments and manages the validation and routing of the transactions to KBC.
Ivo De Meersman, director of payments & cards at KBC Belgium, says: "We are proud to be the first bank in Belgium to offer our customers this new and easy way of paying. It was a challenging project that could only be realised thanks to the good collaboration with equensWorldline, among others.
"Customers with a wearable can now pay for their purchases safely and conveniently in a very user-friendly and stylish way. Contactless payments have been on the rise since the corona crisis. Where previously one in five payments were made contactless, today we see that one in two customers pay contactless."
How it works
The system is set up so that users can make both Maestro and Bancontact payments by linking their wearable to a co-badged debit card issued by KBC.
When the wearable is linked, customers can leave their debit card at home. In addition, when making a payment, users do not have to choose between both payment schemes – this happens automatically.
KBC's move comes after the bank-insurer carried out a wearable payments pilot in 2019, which involved 1,000 users.
KBC said that the majority of the participants responded positively, with half citing ease of use as the main benefit.
David Braeckman, general manager BeLux at equensWorldline, says: "Contactless payments are the future and co-branding is a next important step in the evolution of this payment method. Customers are looking for user-friendly payment methods and co-badged wearable payments meet these requirements. We are pleased to be at the forefront of this innovation."
Other banks
KBC is not the only financial institution to take a recent interest in wearables. Last month, private-sector bank Axis Bank announced it had partnered with digital security company Thales to offer wearable payments to the Indian market. Like KBC's offering, the device is available in various forms, such as a wristband, key chain and watch loop, with prices starting at INR 750.
Adding to this, banks including Barclays and ABN AMRO have dipped their toes into the wearables market over the years.
In 2016, Barclays launched bPay wearables, offering its customers the chance to pay via a wristband. The bank then combined bPay with its mobile money transfer service Pingit in 2019, making a whole host of devices available to customers, including wristbands, key fobs and watch straps.
Unfortunately, this was not as successful as Barclays may have hoped – earlier this year, the bank announced it was to shut down all of its Pingit operations.
ABN AMRO also has a history with wearables, and in 2018 the bank launched a large-scale wearable payments trial, involving 500 customers.
Since then, ABN AMRO has expanded is portfolio of wearable payment devices, offering products such as, the K Ring, Garmin, Mondaine and Olympic watches, as well as keyrings and bracelets from Laks.
Fashion-savvy
Over the last few years, wearable tech has undergone a number of advances, with many businesses keen to offer more attractive, fashion-conscious devices.
One of the more stylish wearables is the K Ring, which is powered by Mastercard. The sleek device is priced at £99.99 and comes in 14 colour combinations.
Furthermore, smaller brands such as Kiroco offer an array of stylish contactless necklaces and bracelets featuring Swarovski crystals. Founded in 2013, Kiroco aims to combine bespoke jewellery with digital technology.
With so many innovative developments in wearables so far, it is exciting to think about what the future may hold for the sector. And as the sector looks to expand its footprint, could wearables become the most popular way to pay in years to come?