While US banks slowly migrate to realtime payments, one fintech is already providing instant push-to-card payments to consumers and businesses. Ingo Money is forging alliances with banks, insurers, payment processors and Visa in its bid to eliminate paper cheques and ACH payments. Robin Arnfield writes
The US is lagging behind other countries in its move to real-time payments.
The Clearing House (TCH), a privatesector clearing and settlement system, launched its RTP real-time payments service in November 2017, and has slowly been signing up bank participants.
In addition, the Federal Reserve is considering whether to develop its own realtime rails. There are also several non-bank push-to-card solutions, such as Visa Direct and Mastercard Send, while the banks have rolled out the Zelle P2P and B2C fundstransfer services.
Founded in 2001, Atlanta, Georgia-based Ingo Money enables businesses and banks to disburse instant, available-to-spend funds to consumer debit, prepaid, credit, private-label credit and mobile wallet accounts.
So far, the firm has enabled $15bn in disbursements, including insurance claim refunds, small business loans and merchant payment settlement. Partners include companies in the lending (Kabbage), insurance, banking (KeyBank), merchant settlement (Paysafe), gig economy, payroll and travel sectors.
Aite Group estimates that the total B2C disbursement market in the US exceeds 3.5 billion payments for a value of $10.7trn. From 2014 to 2018, the dollar value of B2C disbursements for US consumers over the age of 18 has grown by 78%, according to Aite Group's The Instant-Money Economy: Making Business-to-Consumer Disbursements Faster report, which was commissioned by Ingo Money.
Despite the availability of faster, more convenient digital payments, US businesses cling to slower methods such as ACH and cheques for disbursements. In 2018, 68% of US consumers received disbursements via direct deposit, and 49% received disbursements via cheque, Aite Group says.
Visa
In December, Ingo Money and Visa jointly launched a service enabling merchants, corporations and banks to provide push-tocard payments to customers using Visa Direct.
Ingo Money QuickConnect is intended to accelerate the use of real-time corporate disbursements on Visa's processing platform.
Ingo Money QuickConnect offers the ability to choose from multiple acquiring bank sponsors plus user authentication and account-verification tools, and intelligent routing and automatic rerouting for maximum speed and reliability.
"Ingo Money QuickConnect allows a company to almost immediately begin offering real-time payments through Visa Direct, while retaining the ability to easily expand the solution to include payments to online wallets like PayPal and Amazon or to Moneygram locations," said Ingo Money CEO Drew Edwards in a statement.
How it works
"Ingo Money's Ingo Push service works using existing payment rails, just in reverse," Edwards tells EPI.
"It interconnects 24 different payment networks so that companies can plug into all of them through one API. That means instant access to over 4.5 billion consumer debit, credit, prepaid accounts and online wallets or cash-out to MoneyGram stores."
To tap into these networks and disburse funds, Ingo Push provides companies with the bank sponsorship, intelligent routing, consolidated settlement, communication and reconciliation tools they need to execute payments, Edwards says.
"With Ingo Push, companies can choose from multiple integration options to get set up and begin issuing instant funds to customers, save money on payment operations, and create new lines of revenue," he says.
"The customer experience of real-time disbursement is significantly different from paper cheque or ACH funding."
Edwards cites the insurance industry as an example:  "Today, once a customer is approved for a claims payout, the insurer authorises payment. They issue a paper cheque, incurring time and expense to print and mail it, and track payment. On receiving it, the customer must cash the cheque, wait for it to clear in their account, and transfer it to whatever payment account they use for their car or home."
Edwards says that, with push payments and real-time disbursement, the insurer can authorise payment, instantly sending an electronic notification to customers via SMS or email.
"The customer clicks on a link to accept payment and chooses the destination account for their funds," he explains. "Fully settled funds arrive within minutes, and the customer can immediately use them to pay a repairer or contractor."
Edwards views companies such as Zelle and PayPal as partners. "Ingo Money powers the instant money economy by enabling real-time money movement from any source to any destination," he says.
"Our 'network of networks' enables customers to choose how and where to be paid, including nearly any prepaid, credit or debit card as well as online accounts like Amazon and PayPal. Zelle and PayPal are two of the leading destinations to which customers want to send and receive funds.
"Our Ingo Money-Zelle partnership makes it easier for banks to provide a nearly complete network of endpoints in the US for corporate disbursements, covering bank accounts, online wallets and the cards in recipients' pockets. As part of that, Zelle allows companies to instantly push funds for loans, insurance payouts, vouchers or any other type of payment directly to a person's Zelle account."
Edwards is positive about US faster payments initiatives such as the Federal Reserve's consultation about developing real-time rails. "These initiatives emphasise the creation of new payment rails and technologies," he says.
"We're excited to see them succeed, as companies and consumers both stand to benefit. But any effort to build something new will take much time and money, while businesses still need a way to meet customer demand for instant payments today."
He adds: "Ingo Money fills that need now. Our focus is on helping business quickly make use of currently available payment rails to realise instant payments. If these industry initiatives ultimately produce a real-time payments system, Ingo Money will connect to it within our network of networks, so that companies can leverage it as well."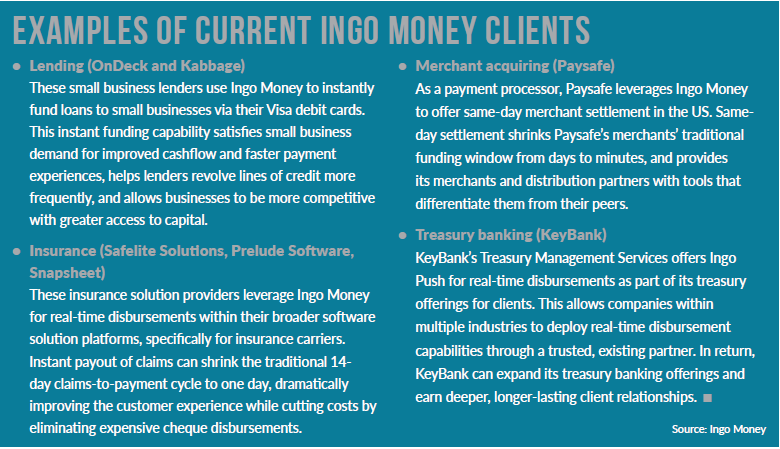 Going mainstream?
"Quite a lot of players are providing B2C disbursement capabilities now," says senior Aite Group analyst Talie Baker.
"What I like about Ingo Money's platform is that it gives businesses the ability to connect to a variety of payment rails for making disbursements. A business can plug into the Ingo platform and begin offering disbursements via push-to-card, Zelle, ACH – whatever method a company wants to use."
Ingo lets companies provide customers with a choice in how they want to receive payments, Baker adds.
"This is becoming a critical part of the payment experience for all companies making disbursements – consumers want a choice. With push-to-card, Ingo also enables real-time disbursements, which is going to quickly become table stakes as real-time payments go mainstream in the US over the next couple of years."