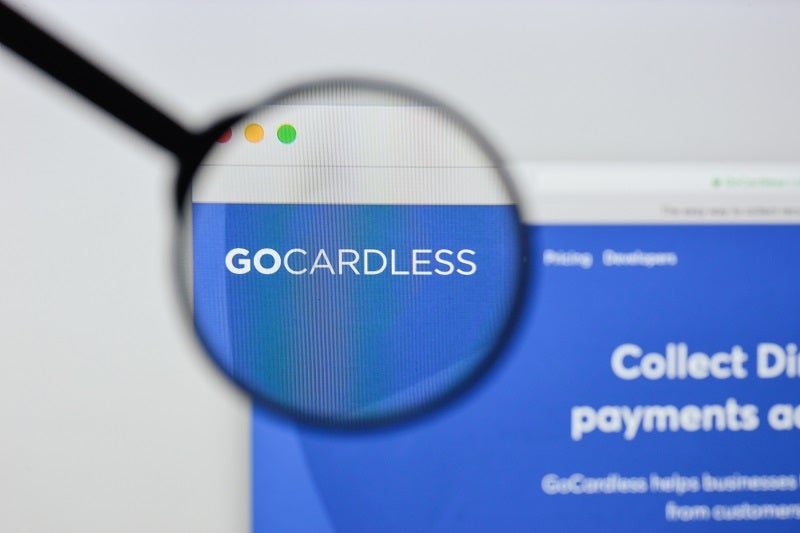 Bank account payments rather than cards are the 21st Century way for businesses to collect recurring payments, according to GoCardless. Chief product and growth officer Duncan Barrigan sees card-on-file replacement as a big opportunity for open banking/PSD2 and equivalent technologies around the world. Robin Arnfield reports
UK-based GoCardless provides businesses with a platform that enables their customers to set up direct debits for domestic and cross-border recurring payments instead of using credit and debit cards.
GoCardless sees recurring payments as anything involving an ongoing relationship between merchants and customers, not just subscriptions which have the same value every month. This could include recurring invoices for any amount or date as well as repayment of consumer and business installment loans.
"The card network stack with all the intermediaries in the middle made sense in the 20th Century, says Barrigan. "But it isn't right for now, especially as information flows so easily around the world and these intermediaries can be removed."
Founded 10 years ago, GoCardless is backed by venture capital firms such as Google Ventures, Accel Partners and Salesforce Ventures. In December 2020, GoCardless raised $95m in Series F funding led by Bain Capital Ventures, valuing it at $970m and bringing its total funding to $240m. GoCardless said it would use the new funding to expand its open banking strategy.
GoCardless processes over $20bn in payments annually across 30 countries for 60,000 businesses. It saw its revenue grow by 46% year-on-year in the 12 months to November 2020, and in February 2021 opened a New York office to supports its expansion into the US. The company also has offices in London, Paris, Munich, Melbourne and San Francisco, and employs around 450 staff. Barrigan said GoCardless plans to expand its headcount globally by two-thirds and three-fold in the US.
GoCardless' customers range from sole traders and SMEs to mid-market and enterprise clients. Its platform is operational in the UK, Europe, North America and Australasia, connecting to direct debit schemes such as Payments Canada's PAD (pre-authorized debit), Europe's SEPA direct debit, the UK's BACS direct debit, and ACH debits in the US.
Customers include UK-based newspaper The Guardian, US-based e-signature and agreement management platform DocuSign and UK-based business lender Funding Circle, which uses GoCardless to collect repayments from its borrowers.
Fintechs and insurtechs
GoCardless partners with Wise (formerly TransferWise) to enable clients in one country to collect recurring payments from foreign customers without needing local bank accounts in the customers' country. The business receives payment in their local currency via local bank transfer from GoCardless, with Wise settling the foreign exchange transaction at the mid-market FX rate for a small fee.
"We do a lot of work with fintechs and insurtechs," says Barrigan. "For example, UK-based savings and investment app providers Nutmeg and Plum use us to pull money from customers' bank accounts into their investment accounts. Our three biggest verticals are lending, savings and investment, and insurance premium payments."
Pull payments
"GoCardless is one of the companies responding to the trend of replacing push payments (e.g. card payments and bank transfers) by pull payments (direct debit)," said Aite Group senior analyst Ron van Wezel.
An important advantage of of direct debits versus card-based push payments for companies is that their fees are lower than those for cards. Another is avoiding the problem of expired cards that leads to high failure rates. Because bank account details don't change as often as those for cards, direct debits have a 20-40% lower churn rate than recurring card payments, GoCardless claims.
"Recurring payments have always been important, particularly for utility and other regular bills," says Zilvinas Bareisis, head of Celent's retail banking practice. "But the growth of the subscription economy has increased the importance of collecting regular payments. Storing a card on file remains a popular way to process recurring payments for many subscription-based firms.
"But when the payment fails because the card has expired, for example, they have to contact the customer and try to collect the payment again. The cards industry is trying to solve that problem with methods such as tokens, but companies such as GoCardless offer a viable alternative."
GoCardless' large customers such as The Guardian incorporate a GoCardless checkout directly into their websites, where customers can enter their bank account details. If a GoCardless client doesn't have a website, then GoCardless can host a checkout page for them. "The client sends their customer an invoice with a link to GoCardless's checkout page," says Barrigan.
A customer using GoCardless fills out an initial direct debit mandate form online, which isn't seen by GoCardless's merchant client. These bank details are stored by GoCardless, which pulls the money from the customer's bank account when the payment is due.
Barrigan claims that GoCardless offers a better customer experience and lower costs than direct debits collected by banks. "The argument we make to companies operating their own bank-provided direct debits is: 'you don't run your own servers since you operate in the cloud with AWS, so why would you run your own direct debits?'" he said.
GoCardless has added layers of APIs, interfaces and dashboards to its platform, enabling integration with its partners, said Barrigan. Companies such as DocuSign, QuickBooks, billing provider Salesforce, accounting software vendor Xero and subscription software provider Zuora directly integrate with GoCardless, allowing companies using their software to manage their business to have their subscription and invoice payments collected automatically
"Every time you generate the requirement to be paid by a customer, for example when your invoice is due in QuickBooks, our software automatically pulls the payment from the client's bank account," says Barrigan.
GoCardless was affected by the pandemic since clients in the physical economy such as gyms using its platform to collect subscriptions were closed. "But Covid-19 has accelerated the way that companies are thinking about digitizing their businesses," said Barrigan. "So we're seeing clients, who maybe haven't been collecting payments, looking to the future to see how they can upgrade their payments collection model."
Open banking
One of the services GoCardless plans to develop using open banking is allowing clients to pull an initial payment instantly when a customer sets up a direct debit mandate.
First-time payments via bank debit can take two to three days to process, prompting merchants to use alternative methods such as cards for the first payment. Instant initial payments set up via open banking-based payments initiation will offer a lower-cost alternative to cards, before the recurring collection continues via direct debit.
Another new focus for GoCardless is providing an open banking-based alternative to card-on-file payments used by e-commerce platforms such as Amazon or ride-sharing services.
"Any card-on-file payment is a recurring payment, and we want to get into this market," said Barrigan. "We see card-on-file replacement as a big opportunity for open banking/PSD2 and equivalent technologies around the world."