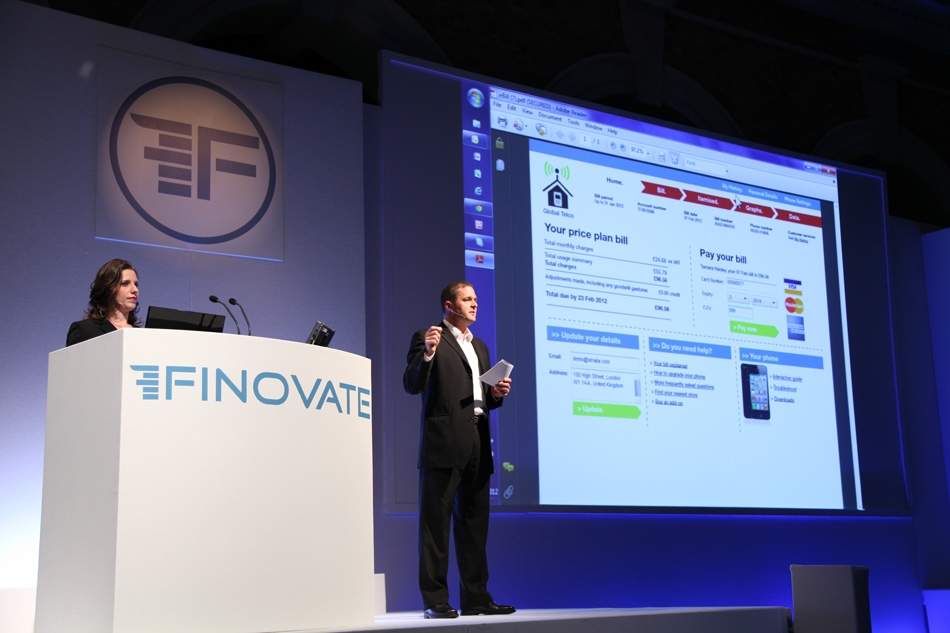 Finovate Europe has opened the doors of its two-day February London event to showcase innovations from well-known vendors and ambitious start-ups. Sara Perria and Billy Bambrough report on the latest trends of the industry, from convergence, personal financial management tools and payment apps.
Over 70 companies from all over the world have participated in Finovate Europe 2013, held in London on February 12 and 13. Personal financial management tools (PFM) and payments app have been the most showcased products during the event and 4,950 Finovate-tweets have spread the latest news from the industry. Banks, financial institutions and some 700 attendees stressed the need to keep a close eye on new technologies and the implementation of new services. Electronic Payments International gives edited highlights of some of the most exciting solutions presented by established companies and start-ups.
Currency Cloud – Low cost international business payments provider
London-headquartered Currency Cloud demoed two applications that integrate its cross-border-payments-as-a-service capability into Sage and Saleforce for businesses. The apps were built using the XBPConnect application programming interface (API), which allows software engineers to embed low-cost international payments into enterprise software. The API enables developers to enhance existing customer services and to enable more integrated and seamless processes for businesses.The Currency Cloud chief executive Mike Laven said: "When making cross-border payments, enterprise software users usually have to disengage from their program, manually make the transaction through their bank or broker, and be host to poor exchange rates and processing errors. "The Currency Cloud's XBPConnect API allows international payments to be incorporated within the workflow of enterprise software, saving users time, effort and money."The Currency Cloud believes that the payments industry is undergoing a remarkable period of transformation. An array of payments start ups has emerged which, through technology, are addressing the issues of the legacy banking industry. "'New Finance' companies are concerned with lowering costs, and bringing transparency and efficiency for their customers. "Examples of New Finance companies include Bango for one-click payments on the mobile web; TransferWise and Azimo for international money transfer for consumer; and ourselves for cross-border payments for businesses."
Azimo – Remittance services company
Azimo is a UK-headquartered company specialised in P2P money transfers around the world. At Finovate, the company has presented a remittance service linked to Facebook. Michael Kent, founder of the company, told Electronic Payments International that, unlike other areas of financial services, social media is applicable to remittances. "This is why we decided to leverage the ubiquitous power of Facebook to enable users to transfer money overseas."More than a billion people already use Facebook to keep in touch with friends and family, so it seems natural it should become a channel for sending money. Now Azimo's users can not only log in to the service with their Facebook login details, but they can select people to pay from their Facebook friends. "The friend receives an invite to sign up to Azimo, and can input their payment details directly – they don't have to share their bank account details with the sender over email or instant messenger. Not only is this more secure, but it reduces the chance of a mistake being made."The global remittance market is currently worth $534bn and tipped to grow another 4% this year alone. Kent said that more than ever before, there is a need to securely, cheaply and swiftly send money overseas: "Until now there's been no choice but to use banks or the equally expensive Western Union and MoneyGram – but now a new generation of low cost, tech-savvy alternatives are breaking into the market". "Azimo's aim is to charge only what is fair – between 1%-2% of the transaction – and to make it quick and easy for anyone to transfer their money overseas," he concluded.
ERN – Big data technology platform
Payments data-analyst ERN has launched a platform that collates data from payments transactions to provide users' information to both banks and merchants. The London-based company says that 11bn transactions take place in the UK every year and, analysed properly, transactional data holds the key to long-term customer loyalty. It can reveal information such as their favourite brands, the regularity with which they buy a particular item, even the time of day they are most likely to buy it.With an eye on the growth of Merchant Funded Rewards, ERN global head of sales Andrew Rush said the company has launched Looop – a new platform to close the transactional 'loop' that's currently broken every time a customer leaves a store with a paper receipt.According to the company, Looop brings together card payment and merchant data to enable them to see in real time the granular detail of every purchase and to build detailed profiles of individual customers in order to target them more effectively. Looop is PCI and ISO 27001 compliant – capable of processing 100,000 transactions per second – and designed to run alongside existing IT infrastructure with minimal deployment costs. It is built to be completely scalable and secure, utilising Tier 4 data centres with bank grade security in the UK, US and Singapore, ERN says. For banks and card issuers looking for new revenue streams, Looop offers them the ability to partner with merchants to create value-added services for customers – and promote their card to the top of a consumer's wallet.
FISERV – banking technology provider
US-headquartered technology solutions provider Fiserv has demonstrated a concept mobile wallet, illustrating how third-party wallets, such as Google Wallet or V.me from Visa, can be incorporated into and accessed from a mobile banking service – turning the financial institution's mobile banking application into a 'master' wallet from which a consumer can manage all their mobile payments. Fiserv is calling this innovation the 'Mobiliti Master Wallet,' as it is aligned with its Mobiliti mobile banking and payment solution. The demonstration showed a user accessing the Mobiliti app, adding a new card to a third party wallet, managing cards once enrolled and managing additional peripheral services, such as card-based alerts, associated with the card. Fiserv vice president, market development mobile solutions Serge Van Dam said: "The world of mobile payments is growing and evolving at a tremendous pace, and financial institutions are struggling to determine whether or not to build their own wallets or participate in third party wallets. "In Fiserv's view, the outcome of this challenge is exclusively in the hands of consumers, who will decide which type of wallets they wish to use, and how they use them."Taking this into account, Van Dam says banks have to address three issues: ensuring their issued card is 'top of wallet'; positioning their mobile banking application as the centrepiece of the consumer's digital banking and payments experience; providing effective customer support. "Financial institutions that enable customers to access third party wallets, such as Google Wallet or V.me from Visa, from their mobile banking service, will position their financial institution's mobile banking application as a 'master' wallet from which a consumer can manage all their mobile payments."
CR2 – self-service banking solutions provider
CR2 displayed network manager, BankWorld, aiming to turn "self-service channels into self-selling channels." According to CR2, BankWorld lets banks actively manage all electronic channels from a single platform and deliver a personalised offering to the right customer at the right time, through the right channel.The Dublin headquartered company risked a live feed to Ireland in their seven minute presentation, carrying out a demo of an ATM running the BankWorld software. Javier Hermida, senior consultant at CR2, joked that "RyanAir would not allow them to get the ATM on the plane so a live feed was their only choice."Hermia added: "As well as managing ATM networks, BankWorld changes the way that a financial institution interacts with customers at the ATM, treating each card holder as an individual rather than simply as another transaction."BankWorld gives banks the freedom to easily manage the self-service channels from a single point providing a 360 degree view of customer's interaction at every touch point. With BankWorld, banks can easily design and launch innovative products and services in a very short time, contributing to a reduction in costs, as well as facilitating revenue generation and increasing customer loyalty."Over 100 banks in 60 countries have signed up to CR2's BankWorld product.
NICE Systems – customer analytics provider
NICE demonstrated its Mobile Research product, which launched in April 2012 aiming to improve the customer experience in mobile banking. In a role play style presentation, Caroline Mason, solution team leader, and Assaf Frenkel, director and head of mobile customer service, explained the benefits of Mobile Research. Mason "interrupted" the presentation as she had an unexpected payment coming out of her account and after a call to Frenkel resolved the problem on stage. According to NICE, Mobile Research "compliments mobile banking by intelligently bridging self service and assisted service."NICE believes that its service is as smart as their customers devices. Mason told the audience that the service "will engage with the customer in real time; connect the customer to the right agent, transferring data from the mobile device to the agent desktop; collaborate with the customer beyond verbal discussions, and provide feedback as a natural part of the interaction." NICE claims that using Mobile Research will result in the "ultimate" customer experice – delivering as personalised, relevant and effective experience as possible. For the company, Mobile Research aims to boost results, reduce costs, and lead to higher mobile adoption.
Temenos – banking technology provider
Temenos showcased its edgeConnect user experience platform (UXP), which aims to provide a "single consistent platform than enables superior user experiences to be delivered across multiple distribution channels." Dharmesh Mistry, product director of UXP, took to the stage for Temenos along with Holger Lehmann, manager of front office business solutions, to unveil a new editor within edgeConnect, LiveDesigner. LiveDesigner plans allow designers to change the look and feel, layout and behaviour while an app is running, so users can see the effects of changes in real time. According to Temenos, edgeConnect was launched to enable customers to develop once and deploy many times across different channels and devices.LiveDesigner, Mistry told the audience, takes this to the next level with changes to the UI made just once, and automatically reflected in each channel – increasing productivity levels. Traditional, 'static' application design simply cannot meet this need, according to Temenos.
Etronika – digital banking solution provider
Etronika has further developed its Banktron product – a new version of its Microsoft Kinect-based online banking application – that launched during the second quarter of 2012. Banktron 8 builds on past iterations facial and voice recognition software and navigates the user in to online banking.K?stutis Gardžiulis, chief executive & co-founder, and Vytautas Šopis, project manager, asked the audience, "why not communicate with computers in a natural way, as we do in the real world?" According to Etronika, Banktron 8 helps finance institutions to maximise cost savings and bring a unified user experience across different channels and devices, while retaining legacy systems.Gardžiulis said: "We have worked hard to envision and create something, that I am not afraid to call a redefined e-banking experience. We thought a lot about when and how clients use banking services, and what are his or her needs in a specific situation."
Cardlytics – loyalty software platform provider
Cardlytics specialises in transaction-driven marketing solutions. At Finovate, it showcased its Facebook app designed to organise your rewards and offers. Jason Brooks, managing director, and Chalres Humphrey, commercial director, took to the sage to show off the firm's latest innovation. The software will allow banks to deploy a Facebook app that integrates with the Cardlytics reward platform. The app will let consumers privately see their offers and rewards while using Facebook.No personal banking information is entered or shared anywhere in this process, explained Humphrey. The Cardlytics software uses the Facebook API to create a link from an anonymous token ID at the bank to their individual Facebook ID.Brooks said: "Extending our reward programme to Facebook is a really exciting development; this functionality will increase engagement between banks and their customers.""Now banks have an option to interact with their customers in new media like Facebook, without compromising any principles on security and data protection."The Cardlytics platform is built upon historical consumer purchase information, provided securely by its premier network of over 300 financial institution partners, including Bank of America, PNC and Regions Bank.The company demoed a working prototype, which is due to be released for use by banks in Q2 2013.
The audience voted eight companies as winners of the event: Credit-Agricole for its app store where it is wooing outside developersETRONIKA for its BANKTRON e-channel management platform mBank with Efigence for their Facebook & social platform Meniga for its PFM platform, including "buy" vs "not buy" feature Moven (Movenbank) for the worldwide launch of its mobile-optimised bank Pockets United for its group purchasing mobile solution SumUp for its mobile point-of-sale system Virtual Piggy for its kids' payment system with parental controls.