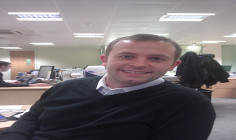 This year's Cartes Expo, Europe's annual card-tech scrum, saw the grey-suited, middle aged crowds gather en masse to marvel at the latest in payments technology. But despite the best efforts of many vendors at the event to give us a glimpse of the future, in all honesty the whole event felt just a little passé, writes James Ratcliff.
Those unfamiliar with NFC technology would have got a lot out of Cartes this year. But is there really anyone out there who is still wowed by the idea of paying for things with a wristwatch?Anyone expecting to have their minds blown out on the expo floor was sorely disappointed. And for that reason, perhaps, there was more buzz around the conference this year – traditionally an afterthought, a means of justifying the trip for most delegates. But as the years go on, the content improves.
Stand out standsWhile the vast majority of the stands were hosted by "me too" vendors and manufacturers with questionable USPs, there were undoubtedly some that stood out – for better or worse.Natural Security (www.naturalsecurity.com) was one. On the surface, a pie-in-the-sky idea for bringing fingerprint authentication to the retail point of sale. An undeniably neat finger print-based two-factor authentication solution, the application could have a future in the fight against online payments fraud. Interestingly, however, the company is starting at the physical point of sale. While card fraud at the POS continues to fall as EMV rollouts continue, it is difficult to see the true value of an alternative to chip and PIN. However, Natural Security has serious intent, and with backing from Ingenico, BNP Paribas, Credit Mutuel, Credit Agricole and MasterCard, it may actually achieve some scale in its native France.A Russian start-up – Synquera – definitely get a prize for effort. The company's Simplate POS device is an iPad-sized interactive POS device designed to enable retailers to upsell and cross-sell to customers while their payment is being processed. The fact that it is NFC-enabled, thereby minimising the time customers actually spend using the device, might make retailers question the ROI… but the company's enthusiasm (and cocktail-making prowess) did not go un-noticed.
The true mobile innovationThe only genuinely new pieces of kit on display at Cartes this year were mobile point of sale devices. Everyone is scrabbling to understand and monetise the new technology pioneered by Square in the US.The jury is still out over whether truly EMV-compliant solutions can be brought to market at a reasonable price point (iZettle seems to have come closest), and some believe that as mobile P2P channels develop, using a mobile POS will be akin to plugging a VCR into an iPhone – somehow retrograde.However, in the short to medium term at least, it has the potential to change, fundamentally, the relationship between merchant and acquirer, as players emerge with highly disruptive pricing and service models – and watching the impact of that is going to be really rather interesting.