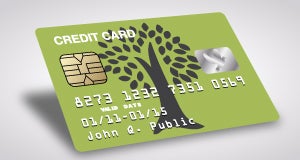 Major credit-card companies are taking a sustainable approach with the development of eco-friendly cards. Mohamed Dabo reports on a growing practice that has environmentalists smiling.
Visa, American Express, and Mastercard have embarked on initiatives to save the environment with the launch of sustainable credit cards.
Last month, Visa joined with payment technology company CPI Card Group to launch the Earthwise High Content Card, made with up to 98% upcycled plastic, depending on the design.
The card is the first of its kind endorsed by Visa, to help reduce first-use plastic in payment cards and reduce plastic waste entering landfills.
"Visa is committed to advancing sustainability in everything we do, from the 100% renewable electricity that processes transactions in our data centres, to the sustainable card materials coming to cardholders' wallets," said Douglas Sabo, vice president and head of corporate responsibility and sustainability at Visa Inc.
"Our collaboration with CPI signifies a further milestone in our efforts to drive our goal of inclusive growth with a commitment to protecting the environment. We're proud that this offering will ultimately benefit the entire payments industry and environment."
Reclaiming marine plastics
About a year ago, American Express launched credit cards made from recycled marine plastic.
"Marine plastic" refers to the more than 8 million tons of plastic that end up in oceans every year and make up 80% of all marine debris from surface waters to deep-sea sediments.
Plastic is a synthetic organic polymer made from petroleum with properties ideally suited for a wide variety of applications, including packaging, building and construction, household and sports equipment, vehicles, electronics and agriculture.
Plastic is cheap, lightweight, strong and malleable. Over 300 million tons of plastic are produced every year, half of which is used to design single-use items such as shopping bags, cups and straws.
American Express' 'green cards' were created in collaboration with Parley for the Oceans, an environmental organisation and global collaboration network.
Doug Buckminster, Group President of Global Consumer Services of American Express, said in a statement:
"As part of our brand promise to back our customers, colleagues, communities, and what they care about most, we're committed to raising awareness for the issue of marine plastic pollution and doing our part to care for the oceans and coastal communities that we all share."
"Managing our own footprint"
Mastercard and card manufacturers Gemalto, and others have launched the Greener Payments Partnership to establish environmental best practices and reduce first-use PVC plastic in card manufacturing.
"Consumers are increasingly moving from cash to card as they look for greater security and sustainability," said Ajay Bhalla, president of cyber and intelligence solutions for Mastercard.
"This partnership will help us and our industry reduce first-use plastic in cards. Together, we can build on recent research and tests and drive adoption of environmentally friendly materials on a larger scale."
Already in 2016, Mastercard had partnered with the Finnish Bank of Åland, WWF Finland, KPMG and Gemalto to create a credit card made of renewable and biodegradable materials.
This program also provides consumers with suggestions on how they can reduce their carbon footprint and their impact.
"We believe it's our responsibility to take care of the planet—from managing our own footprint when it comes to climate, waste and wate to using our solutions and technologies to contribute a sustainable future.
Polyvinyl Chloride (PVC): a known carcinogen
Few of consumers think of the plastic they carry every day in their wallets as a source of pollution and environmental damage.
Most bank cards are made of polyvinyl chloride (PVC), a strong, versatile and cheap synthetic polymer that literally surrounds us, from the flooring, pipes and insulated electrical wiring in our homes to the leatherette clothing and waterproof ski wear in our closets.
However, because PVC is also a known carcinogen, it's not exactly attractive to recyclers.
"If cardholders toss PVC credit or debit cards in the recycling bin, common practice is that they will not be recycled," says Larry Lippold, North American banking and payments sales manager for Gemalto.
"That's partially because the card brands (Visa, Mastercard, American Express and Discover) require that cards either be shredded en masse or on an individual basis, like cutting them up with scissors," Lippold adds.
"They then travel to a landfill, like any other common waste. It's also important to note that cards should never be incinerated by consumers, as burning PVC is dangerously toxic."
While consumers may think that recycling their miniscule 2-by-3 1/4-inch vinyl card isn't going to impact the fate of the planet, the fact remains that PVC casually tossed in landfills can leach toxins into ground water, or worse, release toxic dioxin into the air during landfill fires.
Every cardholder should understand that as important as it is to clear the personal data from the card, it is no less important to dispose of credit cards ethically and sustainably.