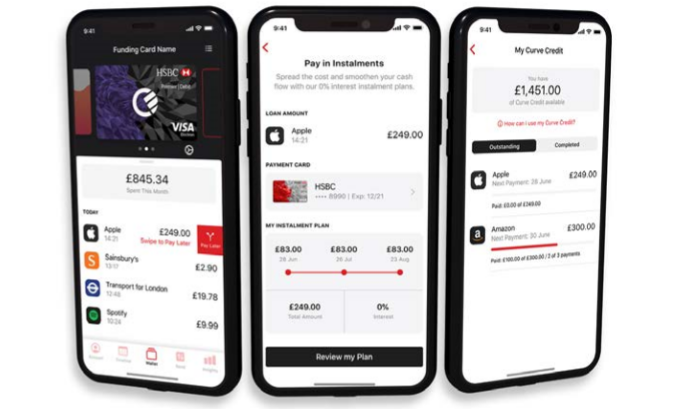 Curve Credit, the credit subsidiary of payment card aggregator Curve, is seeking to tap into the growing popularity of the buy-now-pay-later sector with an offering to compete with Klarna, reports Douglas Blakey
Curve, the UK start-up that aggregates multiple payment cards into a single Curve card, is testing out a buy-now-pay-later offering entitled Curve Credit.
Curve Credit, has opened its waiting list for customers who want early access to its first Curve Credit product when it hits the market later this year; Curve says that the first 200 customers on its waiting list at www.curve. com/credit will get early access.
Curve Credit customers will be able to pay off their credit card debt and split transactions into instalments, made on any connected cards, at any merchant, at any time. And all of this will be all managed within Curve's app.
Go back in time
The functionality for Curve Credit is built directly from Curve's patent-pending Go Back in Time technology. This advances the buy-now-pay-later model pioneered by companies such as Klarna and Afterpay by enabling customers to split into instalments after the purchase, as well as at the point of sale. The initial beta is currently being rolled out and tested by Curve employees.
Paul Harrald, previously a founding member of consumer credit company NewDay, and executive director at RBS, heads up Curve Credit. Says Harrald: "Curve Credit will offer our customers a unique combination of capabilities that will generate a truly satisfying experience. We're able to do this because we will be a genuine fintech lender, using the synergies, the economies of scope, that exist between payments, lending, and a beautiful UX design.
"Customers can shop with any merchant, using any underlying funding card they choose, and we will allow them either immediately or at their leisure to 'go back in time' and split the purchase into instalments."
Over the top 
Curve says its offering is a tangible example of the power and capabilities of the Over-TheTop Banking Platform, a category Curve has been building for four years. By consolidating customers' banking relationships into one smart card and app, Curve provides a birdseye view of all of their finances, and access to responsible instalment credit, without consideration for merchant or bank.
Harrald adds: "So, we're always-available, any-merchant, any-card, point-of-sale finance. And you can change your mind later. This is a truly unique offering that will change the way people manage their cash flow."
Ahead of a public launch, Curve Credit will require FCA authorisation. The future business vision for Curve Credit is likely to incorporate opening up the feature for other credit providers as part of a marketplace offering.
Deeper Mastercard ties 
In April, Curve broadened its partnership with Mastercard. The expanded partnership will enable Curve to become a principal member of Mastercard.
It will also enable Curve to control its own card issuing, and take advantage of a wider range of products and services to enhance its proposition.
The announcement reveals the next important milestone in Curve's journey to simplify and unify the world of money for people across the globe, the fintech says. Curve founder and chief executive Shachar Bialick adds that Mastercard was a launch partner from day one, even before his company had a name.
In addition, Curve is rolling out numberless cards in a move it says gives cardholders greater security and convenience. Investors from Curve's crowdfunding round will receive the new cards, which do not have the primary account number printed on the front.
Other recent Curve highlights include the launch in Europe of its premium Curve Metal card. Curve Metal launched initially in the UK in 2019. The card gives Curve customers a range of benefits and rewards such as 'elite level' 1% instant cashback and worldwide airport lounge access. The Curve Metal contactless card is an 18g card available in three colours: blue steel, red and rose gold.