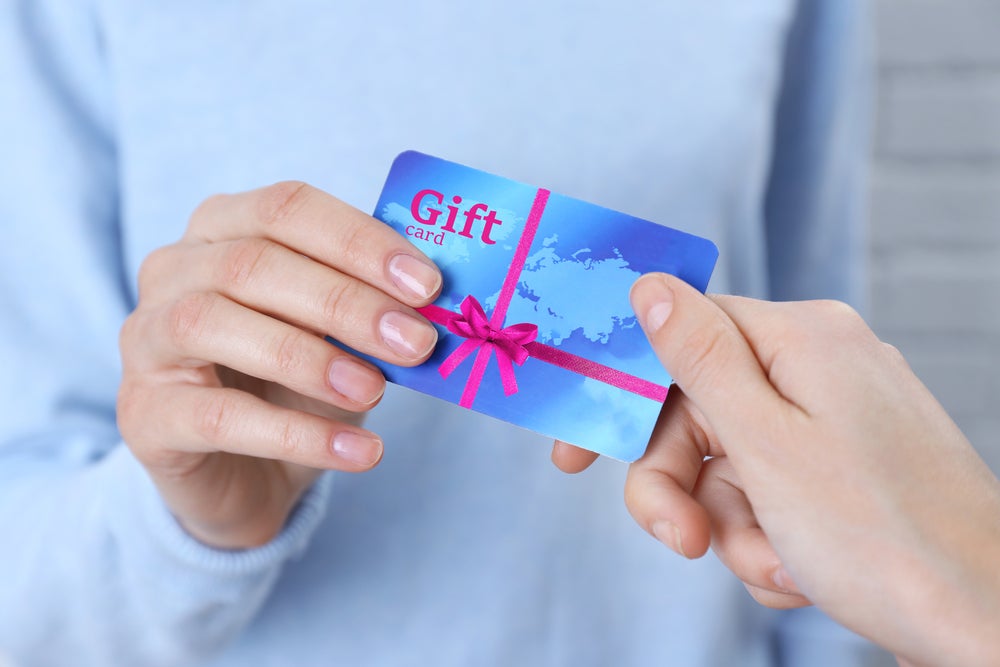 Gift cards make up 14% of lockdown gifting spend, compared with 12% for physical gifts, according to research from the UK Gift Card & Voucher Association and GlobalData, reports Douglas Blakey 
Gift cards have emerged as the most popular form of gifting during Covid-19, according to the latest research from the Gift Card & Voucher Association (GCVA) and GlobalData. The research finds that of those that purchased gifts for loved ones during lockdown, 14% bought a gift card, outselling physical gifts at just 12%.
When quizzed about their motivations for switching to gift cards, 30% of respondents highlight the increased difficulty of purchasing physical gifts in lockdown, with gift cards offering greater convenience. A further 25% did so due to the ease of having gift cards delivered.
More than one in five (21%) of consumers purchased gift cards to support their favourite businesses during a difficult period, highlighting a growing trend among consumers to spend with brands that have prioritised customer service and loyalty. This has been particularly noticeable among younger consumers, with 32.5% of those aged 16-24 and 33.8% of 25-34 purchasing for this reason.
Subsequently a number of consumer-facing businesses, such as major retailers, hospitality brands and beloved local businesses, are expected to see an increase in footfall and spend over the coming weeks, driven by increased gift card usage.
Recent GCVA research reveals that shoppers typically spend an additional £18.55 ($23.01) more than the average gift card value of £27.64 when spending their gift cards – an uplift of 67%. In addition to direct and supplementary shopper expenditure, gift cards can serve an important role in driving brand awareness and engagement.
Almost one in five (18.5%) of shoppers say that they have become a regular customer of a new brand or organisation after being given a gift card, with 31% of Generation Z and millennial shoppers having done this.
Retail gift cards 
Retail gift cards remain the most popular form of gift cards, purchased by 44% of shoppers, followed by multi-store gift cards, which were bought by 38% of consumers. Gaming gift cards have also seen a boost during lockdown, having been purchased by 24% of respondents. Gaming gift cards have proved particularly popular among younger age groups, with 24.7% of shoppers aged 1624 and 21.6% of those aged 25-34 purchasing since the lockdown.
Experience gift cards, which can be spent on activities such as weekends away or at local bars and restaurants, were purchased by 16% of consumers, with a further 10% having purchased leisure gift cards, reflecting continued public uncertainty around when – or even if – businesses throughout the sector will be able to reopen.
Interestingly, almost half (45%) of gift cards purchased during lockdown were from physical stores, due to a combination of the increasing popularity of supermarkets and convenience stores as avenues for gift card purchasing. Gift card malls – a wall of branded gift cards from a range of retailers, located in a store – will have also contributed to this growth, with 7.2% of shoppers most likely to purchase gift cards in this way.
GCVA director general Gail Cohen comments: "Some of the UK's most popular gifting occasions, such as Easter, Mother's Day and Father's Day, fell during lockdown. To adhere to social distancing, consumers needed gifting solutions that minimise contact, could be sent instantly, and enjoyed at a later date.
"For this, as well as recognising our key workers and even keeping the nation fed, gift cards have been the perfect solution. The pandemic has also given rise to a new, extremely interesting gifting trend, known as 'sunny day gifting', referring to when a gift card is purchased with the intention of being used at a later date once everyday life has returned to normal.
"As shops continue to reopen their doors and the leisure sector gears up for reactivation, we anticipate a major surge in footfall as customers flock to spend the gift cards they have bought or received in lockdown, offering a much-needed shot in the arm for the sector that could benefit businesses for months to come."
Joseph Robinson, consulting director at CI publisher GlobalData, adds: "One interesting trend during the lockdown has been the pro-activity – particularly among younger shoppers – in purchasing gift cards for their favoured brands as an act of support during this difficult period."
Robinson continues: "This seemingly altruistic tendency is also reflected in the robust purchasing of experience and leisure gift cards, despite the weekend away, and table for two at their favourite restaurant chain, not being possible. This perhaps points to significant pent-up demand that the industry will be hoping manifests itself from July onwards."