Canadian payments sector has soared to a new high as Canada legalised recreational cannabis in June. What does this mean for the country's payments industry? Briony Richter speaks to Ryan Stewart, chief commercial officer at Bambora North America, to find out
Canada is now in a unique position as the first G7 country to legalise recreational cannabis.
A much-avoided industry in the US, Canadian banks and payment companies now have the opportunity to get into the billion-dollar cannabis industry.
According to Deloitte, Canadians are expected to spend C$7.17bn ($5.48bn) on cannabis products in 2019. Overall consumption will rise to 35% once recreational cannabis is legalised. It might be a quick turnaround as well, as the new law could come into force as early as October.
Canadian payments: Key Themes
Speaking to EPI, Stewart explains what has to happen to facilitate this billion-dollar industry in Canada, and how long will it take to create a secure ecosystem.
"Two key themes will drive this: Regulation and collaboration. Regulation sets the rules of the game, and so long as those creating them bring the industry stakeholders to the table, we can drive the industry forward.
He continues: "We now have clarity at the federal level for regulation. The provinces will be responsible for distribution. It's a little trickier as the model is expected to be quite different from province to province.
"Collaboration is now happening across the value chain. Provinces are beginning to engage the banks, who are working with payment processors like Bambora.
"Timing-wise, it's difficult to say. We've seen the first provinces make announcements for how they plan to distribute legal cannabis, and we know who is in the payments flow."
When the law goes live, cannabis businesses will have access to Canadian payments companies and banks. Cannabis retailers will need to have the ability to execute modern retail fundamentals just as effectively as traditional retailers to be successful.
"Payments processors like Bambora and front-end technology providers are one of pieces that makes the Canadian financial markets unique and powerful," Stewart notes.
"Furthermore, this is a great opportunity for Canada to create long-term jobs and draw talent from other parts of the world."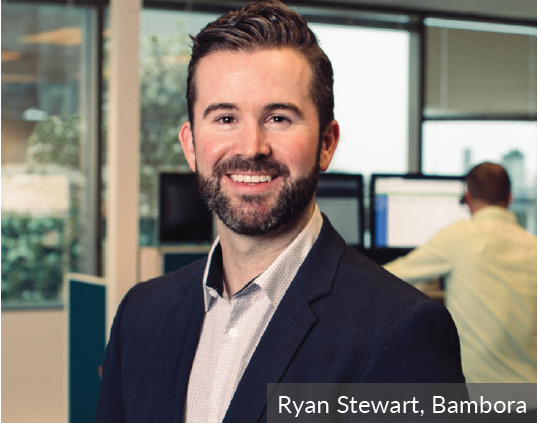 Industry Innovation
The move to legalise has certainly sparked innovation in the payments industry. Creativity in the industry is also set to boom: similar to how consumers continually push for new ways to pay, they also have preferred ways to get high.
According to Deloitte, there is growing interest in cannabis-based edible products. These types of product most likely will not be available until a year after legalisation; however, it enables businesses to develop the desired products, and the payments industry can support the platform to transact securely.
Stewart chats more about payments innovation since the news of the legalisation. He says: "From a payments standpoint we've seen a continued push to an API-driven experience. This fosters an environment where we can all move quickly to partner with one another to compliment the necessary pieces of the payments process.
"The ability to authenticate that a consumer is who they say they are, lives where they say they live, and is of a certain age will be paramount in supporting this industry in particular. Furthermore, the authentication can now happen digitally, in real time, on any of the consumer's preferred devices."
Stewart believes having a payment solution that specifically suits individual businesses will allow them to have the flexibility to cope with the new cannabis industry.
Hurdles
The legislation creates a number of hurdles. Stewart states that implementing the law will take time. Regulation could be tricky, noting: "Provinces will need to work with their local municipalities to obtain buy-in and build a scalable model.
"This also creates the very real scenario of different regulation – or interpretations of the regulations – by province. Scale will be challenged with this in the onset."
However, the new industry will encourage competition across Canadian banks and payment processors. Similar to what the UK is witnessing with Open Banking some are jumping on board quickly to get ahead of the game, others are staying quiet.
Overall, Stewart highlights that although the legalisation will go through its own trials, the law will create more flexibility, competition and growth across the Canadian payments industry.